No matter what anyone says, penis size doesn't really matter in loving, solid relationships or when you want to have amazing sex. Penetration is only one part of any sexual experience. But try believing that when you wish you were bigger or when you know your partner loves big dongs. If you're down about the size of your junk, it's time to try a penis extension.
Penis extension toys help people in all kinds of situations — erectile dysfunction, smaller than average penises, and people who just like to experience new things. Imagine adding a penis extender to your roleplay, especially if you're pretending to be a stranger — that'll be something your partner never expected.
Here are eight penis extensions you should try, no matter what you want to accomplish in the bedroom.
Glow-in-the-Dark Extension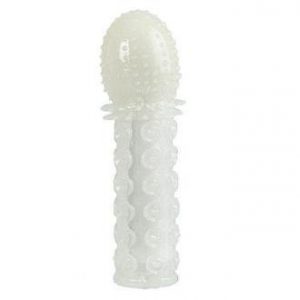 Who says sex always has to be serious? If you're going to add an inch or two to your penis, why not have fun with it? That's what the Glow-in-the-Dark Extension does. This silicone penis extension adds up to one inch to what you've already got, and lets you pretend you're part alien at the same time. Get playful with your sex toys and have a few laughs while you're naked.
Adjustable Extender
One-size-fits-all rarely works for most people. The Adjustable Extender lets you find what fits best for you and your partner. Adjust the fit and size to find the right fit. You can add up to two inches to your overall length. Your partner gets the bonus of more junk during penetration as well as an added texture while you're thrusting in and out.
Mega 3 Inch
Few penis extenders add more than an inch or two, but the Mega 3 Inch goes one better. You can add up to three inches to your overall length. The base can be trimmed for a customized fit, and you can choose between beige and deep, dark brown. You'll feel like a stud when you pack that much extra, and your partner benefits from all that extra length filling their body.
Deemun Penis
The Deemun Penis adds girth not length, but plenty of people like it wide instead of long. Your partner will feel more as you stretch their body in new ways, and you'll last longer with a little bit extra between you and them. This penis extension is a multi-use toy that you can use as a masturbation stroker, too.
Adonis Extension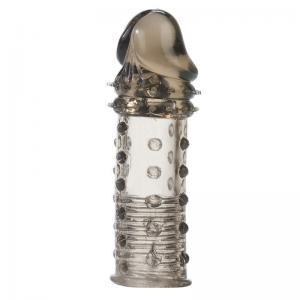 Want to feel like a living god? Like Adonis? Try the Adonis Extension for a god-like feel, at least between your legs. Your partner gets a realistic tip and a textured shaft during penetration. You get up to two extra inches and the ability to customize your fit. Trim it at the base to find what works best for your body and current size.
Strappy Cock Extension
What's better than a toy you can use? One that your partner can use, too! The Strappy Cock Extension (in six inches or 7.5 inches) can be used as both a strap-on or a hollow penis extender. Place it over your shaft, strap in, and enjoy penetrating your partner. If you and your partner are into pegging, clean the extender and switch sides. Your partner can return the favor and fill you up, too.
Magnificent Eleven Super Dong
If you thought 10 and 11 inches dongs were only for porn stars, think again. You can satisfy your size queen, even if nature didn't give you as much as you'd like. The Magnificent Eleven gives you an overall girth of two inches, and is 8.5 inches deep on the inside. No matter how big or small your natural penis is, this extender can make you truly huge.
Ready-4-Action
Multi-purpose sex toys give you more options than any one-hit wonder ever will. The Ready-4-Action Real Feel Penis Enhancer is a penis extension, a penis ring, and a bullet vibrator all in one. Everyone gets more of what they enjoy in this toy. Last longer, fill your partner completely, and hit her hot spot all at one time. Once you find the right rhythm, you may never want to stop.
Conclusion
The saying "It's not the size of the ship, it's the motion of the ocean" isn't wrong, but that's little comfort when you're struggling with your own size and you want to satisfy your partner. Penis extensions are a great tool to enhance your sex life in new ways. Keep up your oral and foreplay skills, for sure, but don't be afraid to take a little help where you can, too.
Have you ever tried a penis extension? What did you think of it? Share with everyone down below!