If you're a guy, chances are your sexual pleasure involves a lot of hand and wrist action. You might stroke yourself to get hard(er) or you pull out your favorite sex toy to give your palm a break. But either way, your hand does a lot of work. Hand fatigue isn't a requirement for your sexual pleasure. There are plenty of men's sex toys that let you enjoy solo or mutual pleasure hands-free.
Here are a few you should try.
Fantasy C-Ringz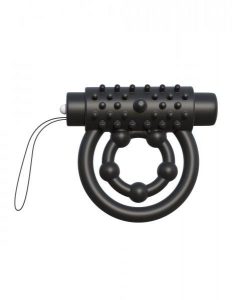 Vibrating penis rings are great, in theory — until you have to reach between you and your partner to change the setting or turn it off. Fantasy C-Ringz takes away that problem with the help of a remote control. Not only does it let you turn it off and on with the switch of a button, you can also change the settings without interrupting the amazing sex you're having. Choose from 20 different patterns. For an extra tease, put some space between you — the remote works up to 25 feet away.
Hero Cockring
Looking for a small, discreet vibrating penis ring that doesn't require fumbling in the dark to turn on or off? The Hero Cockring offers 10 vibrating functions and wireless remote so you can go hands-free for your vibration pleasure. Put it on your penis, turn it to the right setting, and don't worry about fiddling around with your ring during sex until you're both wiped out after an explosive orgasm or two.
Sensuelle Bullet Ring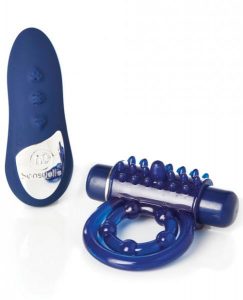 Looking for a penis ring you can take almost anywhere? The Sensuelle Bullet Ring works off a remote control so you can go hands-free but it's also waterproof. That means you and your partner can get down in the shower, tub, pool, or wherever the mood strikes. With the click of a button, choose from 15 settings to drive you both wild. When you're done, another click of a button brings you back down to earth. Between uses, recharge your vibrating penis ring so it's ready to play when you are.
Couples Enhancers Pleasurizer
Want a couples penis ring that doesn't look like every other cheap version out there? Check out the Couples Enhancers Pleasurizer. The vibrator sits against your partner's clit and the remote control lets you switch up the settings to drive them wild. Choose from 12 functions that vibrate, escalate, or pulsate. The built-in memory chip remembers the last function you used so you never have to fumble for the stimulation you crave most.
Pulse 3 Duo
Hot Octopuss is known for their powerful guybrators, and the Pulse Duo is one of the originals. It takes you from flaccid to rock-hard to explosive orgasm with one push of a button. Perfect for guys who have limited mobility, erectile dysfunction, or who are worried about masturbation-induced carpal tunnel syndrome, the Pulse Duo requires no additional movement from you. The oscillating plates provide unique sensations and plenty of pleasure.
Pocket Pulse
Think of the Pocket Pulse as a junior version of the Pulse 3 Duo from Hot Octopuss. It's smaller, more discreet, and a lot quieter, but still just as powerful. Best of all, it features its own remote control so you can give your wrists a break. Less of your shaft will be stimulated with Pocket Pulse but the pleasure will be just as intense thanks to their guybrator oscillating technology. This is proof that size doesn't matter.
Jett Remote Guybrator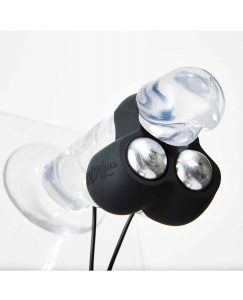 The Jett by Hot Octopuss is aptly named because it looks — and feels — like a jetpack for your penis. Don't be fooled by the ring in the center — this is no penis ring. Instead it's a vibrating masturbator designed to eliminate the need for any thrusting or stroking. Slide the Jett down your shaft until it's comfortable. Use the remote to operate both motors and make the sensations as intense as you can handle. Like other products from HO, the Jett can take you from flaccid to explosion with the push of a button.
Pornhub Virtual Stroker
Penis rings and guybrators are nice, but what's wrong with an old-fashioned masturbation stroker? Not a thing! The Pornhub Virtual Stroker gives you more than the basic satisfying orgasm. The vibrations let you sit back and enjoy the pleasure, while the virtual reality element allows you to connect with the porn stars you can't stop fantasizing about.
Conclusion
Ready to go hands-free alone or with a partner? Try any of these adult toys made with your pleasure in mind and give your hand a break!
Have you tried a hands-free sex toy before? If not, will you? If so, what did you think? Let us know in the comments!