Phone sex and sexting aren't exactly new, and you may have tried it or done it many times with your current or former partners. But considering the state of the world right now, phone sex and sexting are having a Renaissance moment. For many couples, it's their only way to have sex with each other.
Whether you're new to it or you just want to have a better experience, we asked a few experts for their best phone sex tips.
Get Consent First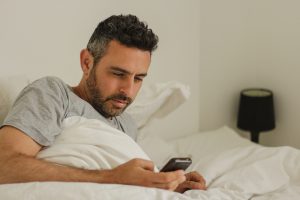 Don't spring phone sex or a dirty text message on your partner. "All sex requires consent, even if it's virtual," states Suzannah Weiss, certified sex educator. "And there are ways to introduce that conversation that are still sexy. Make sure they're in the mood to sex or have phone sex with a fun line like 'Want to hear what I want to do to you when we're in the same place again?' or 'All this time apart has got some naughty thoughts about you in my head… want to hear them?'"
Find Your Voice
Whether you're speaking or tapping out sensual words with your thumbs, you're using a voice to convey the sexy stuff. "When it comes to sexting and knowing what to say, it may be helpful to read or listen to erotic stories to help you find your voice," advises Reba Corrine, certified sex educator. "Write your own erotic stories based on your fantasies or memorable experiences and share them with each other. If you're not feeling particularly creative, try researching erotic stories, videos, and media that you find stimulating and share links to those instead."
Set the Scene
Give your partner context for what's happening, and set the scene before you get into the "dirty" stuff. Dating coach Adam Lyons advises, "Romance novels are the number one selling fiction genre in the world, for good reason. The temptation and the tease that comes from setting the scene makes the entire experience more pleasurable. Take the time to describe where you are, what you're doing, what the reason is behind the following actions. It's worth spending a few minutes of time it takes to do this, to really build up that anticipation."
Use Language that Speaks to Your Partner
Ever hear a word (any word) and cringe? Like how some people really hate the word "moist." Accidentally using a word or term your partner hates could kill the mood. "Learn the words they prefer to describe their private parts. It's all fun and games until your partner asks you to park your meat truck in their tuna market," says Lyons. "There is nothing more of a buzzkill than someone describing your bodily anatomy in a way you don't like. A brief discussion beforehand about your preferred terms may seem a little awkward, but it's far less awkward than the alternative."
Paint a Picture with Your Words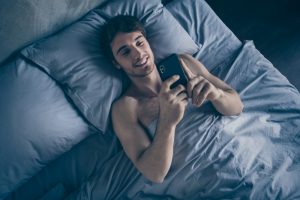 Sexting and phone sex have a certain physical side (hello, masturbation!) but it's primarily a mental thing. You want your partner to be able to visualize the mood, the moment, and the fantasy. Weiss agrees. "Paint a picture with your words about what you'd like to do with them, and ask them questions in turn about how the things you're imagining sound to them, as well as what they'd like to do so it's a mutual conversation."
Practice Touching Yourself aka Masturbate
Good phone sex and sexting involve one partner physically touching themselves in a way that matches (at least a little) what their partner tells them. If you know you want this to go slowly and build to something good, but you usually jackhammer away at yourself, you may need practice. "It really doesn't work well if your partner is describing a gentle erotic tease on your body, while you're pounding away giving yourself friction burn. Learn different types of touch and how to enjoy them even when you're not on your phone with your partner," advises Lyons.
Take Your Time and Build Up the Anticipation
"With so much technology making it easier for us to connect in different ways: from sexting and erotic photos to Bluetooth pleasure technology and video calling apps; it's possible to stimulate your partner in through a variety of senses — particularly through sight, sound and even touch," says Corrine. "For example, you could start with sexting and erotic photos. Then, build up to a scheduled phone sex date night. Building on these dates, you could introduce video technology and try role play or sexy costumes to even further enhance these experiences. Mutual masturbation can be fun, but more pleasure can be found when you can slowly build up the arousal."
Use Sex Toys Together
We wouldn't be us if we didn't mention this particular tip! Phone sex and sexting often lead to masturbation, but that doesn't mean you can use sex toys — both alone and at the same time. Of course, you can pull your favorite vibrator or masturbation sleeve, but this might be the perfect time to go high-tech. Corrine agrees.
"Kick it up a notch and invest in adult toys that feature Bluetooth technology which allows users to control them remotely through an app. There are toys made for both penises and vulvas, and some brands can be used from long-distance and close range to help you bring each other pleasure from varying distances that feel comfortable for you both."
Conclusion
Phone sex and sexting can (and should!) be much more than a blurry pic of the D and a random, "I'm horny" text. Talk about it with your partner, and put a little effort into it. You'll both have a better experience when you do.
What problems do you usually have when trying to sext or have phone sex? Let us know in the comments below!