When you know your g-spot is your hotspot, it's frustrating when your dildo can't quite reach. You could feel amazing if you could just hit that perfect spot! If you're tired of using your fingers or feel like you have to contort into ridiculous positions just to orgasm, it might be time for you to get a dildo designed with you in mind.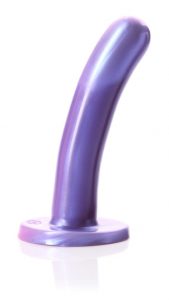 Check out these eight dildos made to give you more g-spot orgasms.
Tantus Silk
Tantus is known for their gorgeous and functional dildos, and the Silk is no exception. This sleek, smooth silicone dildo comes in multiple sizes so whether you prefer something small or crave something huge, you can have it. The Silk has a slight curve at the end while maintaining the same girth throughout the shaft. You'll be able to play with the depth of penetration and the angle to hit your g-spot just right.
Icicles No. 5
The Icicles No. 5 glass dildo is what you might call a classic. This dildo has been around for years and is often a perfect choice for anyone new to playing with glass. The blue ribbon provides plenty of texture and stimulation, while the glass is body safe and fun for temperature play. But it's the bulbous tip at the end with the subtle bend that's perfect for your g-spot.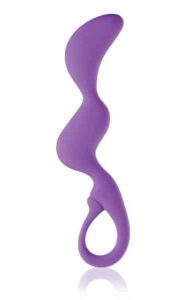 My Little Heaven
Imagine being so fed up with g-spot dildos that didn't work for you that you designed your own to hit your g-spot every time. That's what one sex toy designer did when she created My Little Heaven. The shape is nothing like other dildos. It's curved and twisted from top to bottom to stimulate more of your vagina as you insert it. The pointed, curved tip is meant to focus on your g-spot in the way you like best.
Ella
The Ella by LELO is technically a vibrator, but because of its shape and design, you can use it as a g-spot dildo, too. You get the quality you expect from LELO, the vibrations you want for extra sensation, and a shape that's made for your g-spot. The tip is bent like most g-spot toys, but the end is flat. With or without the vibrations, you'll feel more stimulation over your entire g-spot than with other sex toys.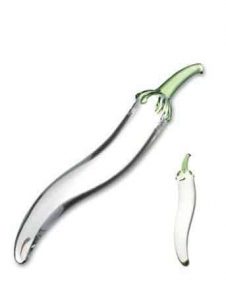 Chili Pepper Dildo
Don't like to take your sex toys too seriously? You might want to try a glass dildo in the shape of a chili pepper. Yes, that's a thing, and because of its shape, it may be perfect for your g-spot. The shaft is completely smooth with a gentle curve throughout. The tip is pointed and rounded for maximum focus on your g-spot. Plus, it's safer to use a dildo shaped like a vegetable than to use a vegetable like a dildo.
Tantus Acute
Jokes aside about how "cute" the Tantus Acute dildo is, this g-spot dildo is all about the angle — the acute angle! Who knew you could combine math and sex? Another popular option from Tantus, this dildo focuses on all the ways it can rub you right. The bend means it won't just ram in and out of you during penetration, and the thick head will tap your hot spot just right with each thrust.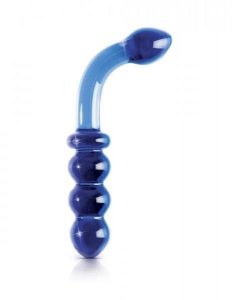 Icicles No. 31
If the gentle curves and subtle bends of other g-spot dildos aren't enough to reach your g-spot, you might need to go more extreme. The Icicles No. 31 is a glass dildo with a near 90 degree bend to reach whatever spot you love best. The bulbous head with it's focused tip should knock-knock-knock on your g-spot for as long as you want. And if you use it for any other kind of penetration later, just make sure you clean it first.
Laid D.1
Looking for a dildo that's not just functional but is beautiful, too? Try the Laid D.1 Silicone dildo, available in a variety of colors. It's made of silicone that's firm to the touch and offers an asymmetrical shape that's not like your standard dildo. Once inserted, play with the angles by moving it around to reach your g-spot. The wide, rounded tip combined with the shape of the dildo will make exploring your pleasure more exciting than ever before.
Conclusion
Even when your g-spot craves all the attention that doesn't mean any kind of penetration will do. If you want a little solo sex play or fun with a partner, get a dildo that's made to hit you in the perfect spot. Look for the curve and angle that's best suited for your g-spot. The right g-spot dildo can make all the difference in the sex you have and the orgasms you enjoy.
Do you have a favorite g-spot dildo? Let us know down in the comments!