Is pegging on your sexual bucket list? Have you and your partner talked about it and now you're ready to take the plunge (pun definitely intended)? If you're new to pegging penetration, the right dildo makes all the difference.
Whether it's a standalone toy or part of a strapon harness kit, make sure you choose a dildo that eases you into the fun and excitement of pegging sex.
Tantus Silk Small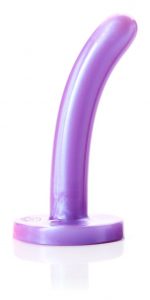 Tantus makes dildos of all sizes, including the Silk in small, medium, and large. Since you're new, start with the smallest option and work your way up. It's curved and smooth for an easier entry. Add plenty of lube and stimulate your own erection to help your body relax as your partner buries this dildo deep inside your bum.
Leisure
A multipurpose toy, the Leisure is a great dildo for pegging fun and a vibrator that adds extra stimulation.The narrow tip will make that first push in a bit easier. The smooth shaft combined with lube may ease right in as the vibrations help your body relax. As much fun as pegging can be, take all the help you can get from the bullet vibrator for a more pleasant penetrative experience.
Double-G Deluxe
If neither you nor your partner already have a strapon harness, kits can make sure you have everything you need. The Double-G Deluxe includes an adjustable harness, two dildos, a ring, and a bullet vibrator. Whether you try pegging or not, this kit includes something for everyone. Start with the smallest dildo and work your way up to the biggest.
Red Rider
A simple dildo and strapon harness, the Red Rider is exactly as its name implies. Bright red and ready to ride. The dildo is smooth for easier entry and curved at the tip to hit your prostate (aka the p-spot) for even more intense pleasure. The harness is adjustable for your partner so they can find the right fit and have a better experience, too.
Bend Over Beginner Kit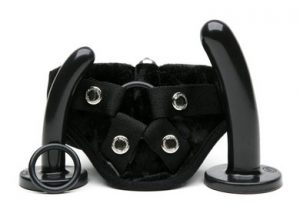 If you like the look and feel of Tantus dildos but lack the harness, start with the Bend Over Beginner Kit. You get everything you need — a black or purple adjustable harness, two Tantus dildos, an interchangeable ring, and a bullet vibrator. Since you're new to being pegged, start with the smallest dildo and add plenty of lube. As you get used to the sensations and being penetrated you can move up in size. Let the vibrations from the bullet vibe add sensations that stimulate your body and help you relax so the dildo slides in even easier.
Vibrating Slender
If you want your first dildo experience to look realistic, the Vibrating Slender will give you what you need. The dildo is slim enough for anyone who doesn't want a big, thick, dong (yet or ever) and narrows at the tip for that initial penetration. Only go as far as you're comfortable with and work your way up to the thicker base. The vibrator comes with a remote control so your partner can control your mutual pleasure with ease.
Love Rider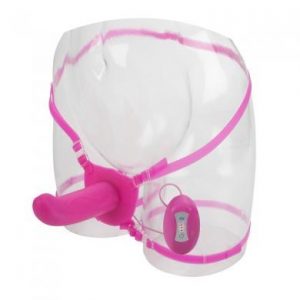 If you want to start out small and slow, the Love Rider kit may be perfect. The harness is basic and adjustable, and both of you can enjoy a remote-controlled bullet vibrator. For pegging newbies, the dildo is short but not too squat with a good bend at the tip to hit your backdoor hotspot. Add plenty of lube, start slow, and enjoy the ride. No one says you have to take a full seven inches on your first try.
Strap On and Dildo
Want to stick to the basics for your first pegging adventure? The Strap On and Dildo makes that super easy. The harness is adjustable for your partner, and the dildo is five inches long with a smooth, slender shaft for your comfort. Grab the lube, take your time, and focus on the pleasure. This isn't a race, so go as slowly as you need to so that it feels good for both of you.
Conclusion
If your partner already has a harness, you only need the right dildo for pegging fun. Look for something small, slender, and with a slight curve. If you're both new to the idea of pegging, look for a kit or a strapon harness and dildo set that fits both your needs. Explore this new kind of sex together and take your time. Remember — pleasure first.
Have you tried pegging before? Do you have a favorite dildo for it? Share your experience in the comments below!