October brings out the spooky and sexy vibes in many of us. Black cats are often part of the fun, from sexy cat costumes and kinky kitten play. If want to make this Halloween sexier than ever, why not do it with cat-inspired sex toys? You'll find everything from kinky gear to anal toy to role-play fun!
Check out the cat-themed sex toys on this list!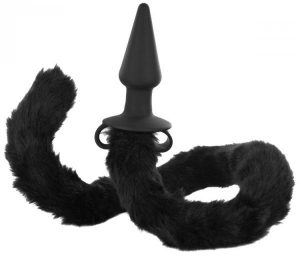 Tailz Bad Kitty Cat Tail Butt Plug
Can't decide between butt plug fun or your desire to "be" a bad kitty for a night? Don't choose between the two; get the Tailz Bad Kitty Cat Tail Butt Plug. The silicone butt plug is tapered for easy insertion and comfort. The faux fur black tail measures in at 24 inches and is flexible and soft. You can even add bullet vibrators to the base of your plug for extra sensation and pleasure.
Faux Leather Cat Mask
Whether you want to take your sexy cat costume to a new level or you're ready to be a kitten in the bedroom, check out this Faux Leather Cat Mask from Allure Lingerie. It's made in a single size to fit most people. The black fake leather is soft and comfortable. Wear it with something sexy or just wear the mask. Either way, you'll send out some sexy and spooky vibes when you do!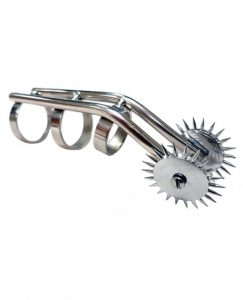 Rouge Stainless Steel Cat Claw Pinwheel
Ever told your partner to beware of your bite? Maybe you should have warned them about your cat claws instead. The Rouge Stainless Steel Cat Claw Pinwheel is a double Whartenburg wheel designed for pleasure mixed with pain. Use them like a cat's claw by wearing them over your fingers (courtesy of the three loops). Run the spiked wheels over your partner's skin for kinky fun and plenty of sensation.
Pastease Glitter Black Cat
Love to feel cute, pretty, and a little sassy? The Pastease Glitter Black Cat pasties will definitely put you in that mood. These soft, waterproof pasties are durable and comfortable for long-wear. Choose from white or black kitties and give your boobs a jiggle to show off these smiling kitty-cats. You might not be spooky, but you'll definitely be sexy!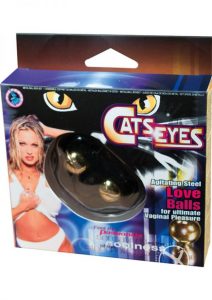 Cats Eyes Steel Love Balls
It's double-the-fun time with the Cats Eyes Steel Love Balls. Enjoy these solid Ben Wa balls perfectly weighted to arouse you completely. Covered in a non-chip gold metal alloy, they feel like pure pleasure but look like mysterious cat eyes. You won't care what they look like as they move deep inside your body, turning you on with every move you make.
Fetish Fantasy Beaded Cat O' Nine Tails
There's nothing catty about this flogger with a sting. Much like a cat's claws, you'll feel the bite when the Fetish Fantasy Beaded Cat O' Nine Tails lands on your skin. The handle is beaded, and the strands are thin for maximum stinging pleasure. This whippy toy measures at 20 inches long so your partner can really get some air on the flogger to give you plenty of sharp pain and sweet pleasure.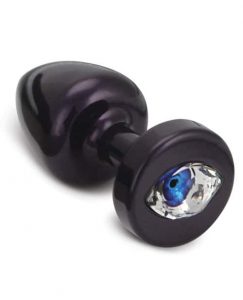 Diogol Anni R Cat's Eye Butt Plug
We're back to butt plugs in the list. This time, it's the Diogol Anni R Cat's Eye Butt Plug, a luxurious and beautiful plug with a cat's eye crystal in the base. Choose from purple, red, or silver plugs, each a moderate 25mm in size. The crystal created to look like a beautiful cat's eye is made from genuine Swarovski crystal. Wear it because it feels good and looks gorgeous, and let your inner kitty out to play.
Pink Leopard Massager
Leopard's are cats — big, fast cats. Brighten up your sexiest times with the Pink Leopard Massager, a small, discreet vibrator great for your clitoris, G-spot, or any sensitive area on your body. It's 6.5 inches long, uses two C batteries, and packs quite a throbbing punch for such a small toy. Even better, it's quiet and easy to use. Dress up in your favorite kitty gear and then let your wild self out while you play!
Conclusion
No matter what kind of sexy fun you enjoy, you can make it cat-themed, even if in name only. From kinky toys to butt plugs to vibrators, enjoy the spooky season or the fun of being a sexy kitten any time you want. Sex toys are part of adult play, and there's no reason not to let your imagination run wild!
Do any of these toys sound interesting to you Would you use a cat-themed sex toy? Let us know in the comments below!