When you reach for a vibrator or dildo, what you want most is for it to work. It's got a job to do – help get you off. What it looks like doesn't always matter. But when you're out shopping for a new sex toy, there's nothing wrong with searching for a color or style that you love.
Sex toys come in plenty of shapes, styles, and colors. After a while it can feel like a candy store exploded in your toy box with all the blues, pinks, and purples. You might want something less sweet and more intense. If black is your signature color in and out of sex, these black sex toys may need to join your growing collection.
Sex and Mischief XOXO Paddle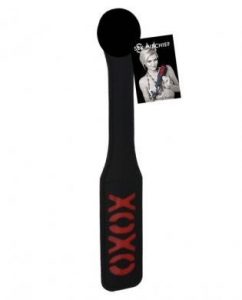 Black and kink just seem to go together for many people. Adding this lightweight black paddle to your BDSM collection might be exactly what you need to make things even more exciting. Even better, you'll leave behind hugs and kisses (XOXO) right where it'll most be remembered. The XOXO paddle is 12 inches long and a few inches wide and great for beginners.
Ball Gag Training System
Ball gags can be a lot of fun, but if you don't know what size you or your partner need, they can be frustrating, too. With this ball gag training system, you can work up from a small size to a larger one over time. If you don't know what size you prefer, this lets you try all three to find the perfect fit. The gag is breathable and interchangeable between the parts so buy it once and get plenty of mileage during your kinky play.
Anal Fantasy Ass Gasm Ring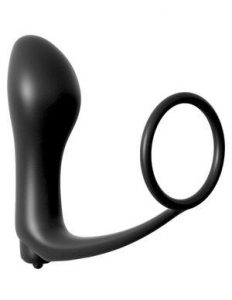 A penis ring is great for increasing stamina and intensifying your orgasm. What could make it better? Adding a vibrating anal plug to it like the Anal Fantasy Ass Gasm! Don't forget to lube up and play with the settings to find what feels best. Between the anal stimulation and the ring around your penis, your orgasms may cause major and sticky explosions you and your partner won't soon forget.
Greedy Girl G Spot Rabbit
A rabbit gives you the best of all worlds – g-spot, clitoral, and vaginal stimulation all at once. This Greedy Girl rabbit is rechargeable and waterproof. It offers 36 potential vibration combinations so you can find what feels best. It's got two motors and 15 speeds, but it's still extremely quiet. When you find the right spot, you'll be the one making all the noise.
Bodywand Midnight Massager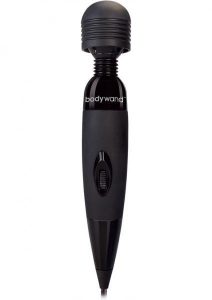 Wand massagers pack a real punch. The wide, vibrating head covers more of your body, and the intense vibrations can cause breath-stealing, eye-rolling, bed-rocking orgasms. The Bodywand massager also lets you add attachments so you can change the sensations, focus on a specific part, and have a different experience. Don't think that a massager is just for vulvas and clitorises. The Bodywand is good for penises, too.
Curve Black Bullet
What's better than a small, discreet, bullet vibrator? How about one that works with a remote control? The Curve bullet is great for solo play or having fun with a partner. You can use it at home in private or take it out for an evening of fun. It's waterproof and rechargeable. The bullet will run for 90 minutes on high and 120 minutes on low. Choose from 12 settings to find exactly what works for you.
Risque Tulip Vibrator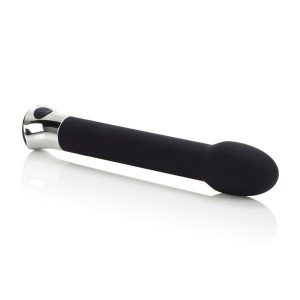 Sometimes you just want a basic toy, nothing fancy or complicated. The Risque Tulip vibrator is exactly that. Sleep and smooth at nearly six inches long, it's great for clitoral or internal stimulation. It also has 10 functions and a memory chip which lets it remember the last setting you use. This extremely quiet vibe runs on batteries.
LELO Nea 2
Some sex toys are beautiful. Others are functional. Some, like the LELO Nea 2, are both. This small vibrator fits in the palm of your hand as well as right between you and your partner. Once you find the right position, enjoy any of the eight settings and enjoy. The Nea 2 is waterproof and rechargeable.
Conclusion
Sex toys are meant to be exciting, invigorating, and most of all, fun. It doesn't matter whether you like kinky sex toys or you're more of a vibration kind of person. When you're shopping for a new toy, how it works and whether it feels good is always the most important aspect. But it's okay to look for toys in your favorite color, too. For people who prefer a shade of midnight or onyx, Jack and Jill has you covered.
Do you prefer your sex toys to be any particular color? Is black a go-to for you? Let us know in the comments below!