No one ever said that a functional sex toy that feels good and gets you off can't be beautiful, too. If you love a little bling in your sex life, especially when you bend over to tease a partner, you've got more options than you probably realize. Especially if you love butt plugs and want to feel cute, sexy, pretty, beautiful, and desirable.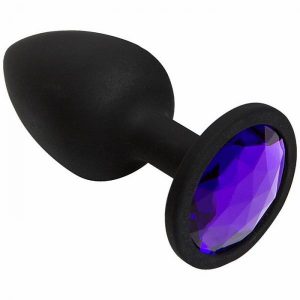 Check out these eight beautiful butt plugs to find one that makes you say, "Ohhhh, how pretty!".
Booty Bling
Want to add sparkle to your butt fun but don't love aluminum or stainless steel? Try the Booty Bling. You get a purple jewel in the base that will peek out every time you bend over. But you also get the comfort and durability of body-safe black silicone. Not only will this plug look good, it will feel amazing.
Diogol Anni – Fuchsia
Buckle up, because Diogol Anni offers several gorgeous butt plugs you may want to add to your anal collection. This fuchsia option is a silver colored medical-grade aluminum with a genuine Swarovski crystal at the base. The plugs in this line are heavier than most so you'll definitely feel it while you wear it.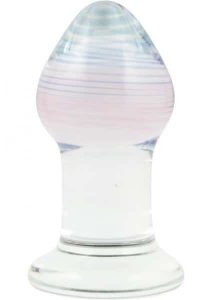 Amethyst Rain
If you like the idea of a sex toy that can double as a piece of art, you're going to love Amethyst Rain. This butt plug is thick, heavy, and made of hand-blown glass. Before you insert it, enjoy the swirls of colors at the tip. Once its in, enjoy the way it feels and the way it makes you feel. You may never want to take it out, but when you do, you'll love what you see.
Diogol Anni – Blue
As promised, here's yet another Diogol Anni butt plug. This time with a blue Swarovski crystal at the base. Each of these plugs weighs in at 1.25 ounces with an insertable length of 1.75 inches. The circumference at the widest part is an inch, so it's great for some beginners and comfortable enough to wear for a while for more advanced players.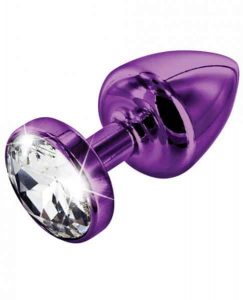 Round Funky
Same maker, but a vibrant color you won't want to miss. The Round Funky by Diogol Anni is a purple butt plug (perfect for anyone who can't get enough of purple) with a clear crystal in the base. It's everything you love about the other plugs they make but in a fabulous color. For those who love this color, you'll love showing it off, too.
Icicles No. 79
If you prefer glass over aluminum or stainless steel, check out the Icicles No. 79. You get the beauty of a gorgeous pink with the artistry of a diamond-shaped base. Enjoy staring at it before you slip it in. Don't forget to bend over and give a wiggle so your partner can enjoy the view, too.
Shots Rich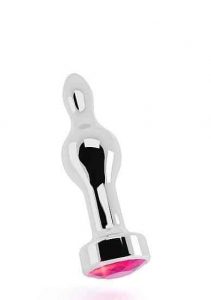 Love the idea of a jeweled butt plug but need something beyond the basics? Once you get past the newbie stage of anal play, check out Shots Rich. The rose-red jewel at the base is beautiful, and the silver material feels great. But what makes this one special are the stimulation bumps that mirror anal beads. The insertable length is 3.5 inches so you're really going to feel this one.
Icicles No. 47
Some of the most beautiful things are also the simplest designs. The Icicles No. 47 looks almost basic. It's made of clear hand-blown glass. But the style mirrors anal beads to increase sensation and pleasure. For even more fun, run it under warm or cold water first and experiment with temperature play while you enjoy the beads and the beauty.
Conclusion
Some people love using butt plugs for how they feel. Others consider it a kinky way to play, alone or with a partner. Still more enjoy both the sensation of anal play and the kink aspect. Whatever your reasons for playing with plugs, make sure you use ones that you truly love. And if how it looks is important to you, there's no shame in that! You can find some of the most beautiful toys as long as you know where to look. At Jack and Jill Adult Superstore, we can help you find them.
Do you want a butt plug that looks as good as it feels? Did any of these catch your eye? Let us know down in the comments!