The beauty of a wand or body massager like the Hitachi and other brands is the power they provide. Big vibrations, bigger sensations, and when you hit the right spot, big orgasms. Wand massagers have their place in all kinds of sexy fun, but what if you want or need something more than the same old clitoral stimulation?
Attachments make your massager more versatile and allow you or a partner to play in new and exciting ways. Take a look at these eight attachments you need for your wand massager.
G-Spot Stimulator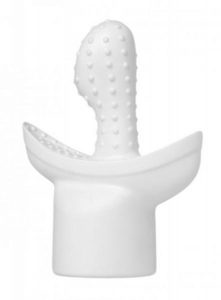 If you're the type of person who prefers internal penetration and stimatulation, g-spot attachments will hit the spot. Choose smooth materials or textured for a different experience and combine it with the heavy-duty power of your massager. You'll get a boost from the vibrations in a way that a regular g-spot stimulator can't always provide.
Prostate Massager
Tired of watching your partner have a good time with a body massager? If your prostate needs some love with a bit of oomph to the vibrations, try a prostate attachment. For those of you who may be prostate virgins, start with the lowest setting and work your way up in intensity. And as with all butt play, don't forget the lube!
Double Penetration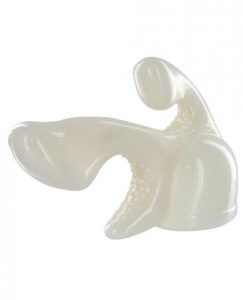 If there's a sex toy for everything, then it stands true there's a sex toy attachment for everything, too. Not everyone is into double penetration, but if you are, you don't need penises to get the experience you crave. You don't even need a special sex toy. With a double penetration attachment for your massager, you can experience intense stimulations in multiple ways from multiple angles. As always, lube up before you begin and add more as needed.
Stroker
Don't let the penises among you get left out of the massager fun. Stroker attachments allow you to experience the strong vibrations inherent in massagers without feeling like you're burning a hole in your shaft. Some strokers are small enough for the head of your penis and little else. Others allow you to slide more of your shaft in. Either way, your penis won't know what hit it, and you may have to fight your partner over who gets to use the massager next.
Rabbit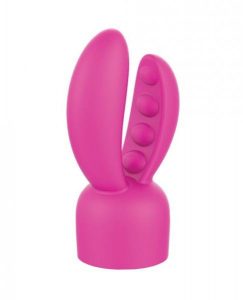 For those of you who enjoy both internal and external stimulation, you don't have to switch between sex toys. You simply need the right attachment, and yes rabbit style is available. Press the massager against your clitoris and your g-spot and let the throbbing waves overwhelm your senses in the best way possible.
Bunny Ears
If your favorite part of any rabbit vibrator is the ears that surround your clitoris, you're in luck. Bunny ear attachments are totally a thing, and you and your clit can be very happy and satisfied together. Between the strength of the buzzing massager and the focused sensation from the ears, you could easily overwhelm all your senses with the intensity of this newfound pleasure.
Anal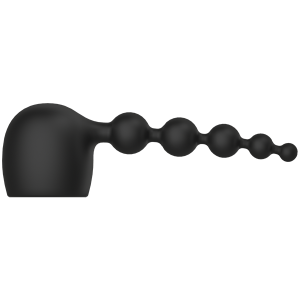 Not everyone who enjoys anal play has a prostate. Don't worry, you're not left out of the butt stuff fun. An anal attachment lets you stimulate or penetrate your backdoor. Combine it with external stimulation to make insertion more comfortable. Add it as a part of your kinky play to try out different fantasies. No matter how you play, the sensations will be more powerful with the help of your massager. And as always, grab your lube and use more than you think you need. Anal doesn't have to hurt, and it shouldn't, as long as you make penetration as slick and wet as possible.
Textured Clitoral Stimulation
Here we come full circle back to the clitoris. Maybe you absolutely love everything about your wand massager. The large head. The rumbly vibrations. And of course, how easy it is to find the right spot. That doesn't mean the sensations can't get a little boring. Add a little something extra to your clitoral fun with textured attachments that give you all the clit love you crave but with tickles, pings, spikes, and rough patches you can't wait to try.
Conclusion
Most sex toys can be used in multiple ways. Vibrators can be inserted or used externally. Dildos can penetrate you or a partner. Rabbit vibrators don't have to hit your g-spot to be effective. But wand massagers tend to have one real purpose – overwhelming and powerful external stimulation. With the right attachment, you can turn one massager into a dozen or more sex toys to use during solo sex or with a partner. Give yourself as many options as you'd like and learn to love your wand massager for all new reasons. No matter what your favorite sex toy may be, there is always a new way to enjoy it!