Sex with a partner can be defined in so many ways. As can vibrators — if it vibrates (or has a motor) it counts. No matter who you partner with or how you have sex, if one or both of you enjoy extra stimulation from a vibrator, there's one out there for you.
Check out this list to find your next favorite sex toy to use with your partner!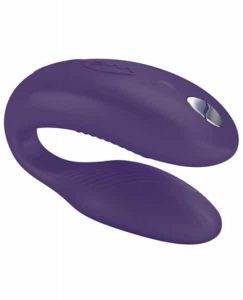 We-Vibe Sync
One of the OGs of couples vibrators that work from mobile apps, the We-Vibe Sync offers multiple forms of sensation. Insert it into the vulva for both clitoral and G-spot vibrations. Your partner will enjoy the stimulation, too, as long as they're pressed tightly against you. The Sync hugs the body so it adds to your sexual pleasure without getting in the way.
If you want to have sex with a little space between you, use the We-Connect app to let your partner control the patterns and settings, no matter how far apart you are. You can create customized patterns, let the stimulation to music, and save your "playlists."
We-Vibe Chorus
Consider the We-Vibe Chorus the next generation after the Sync. It has many of the same features but with a slight upgrade. The Chorus is more flexible so it fits against your body more comfortably. It comes with 10 modes built-in, but definitely check out the We-Connect app for more. As you squeeze your pelvic muscles (ya know, Kegels), the vibrations become stronger. When you relax your muscles, the stimulation eases up a bit.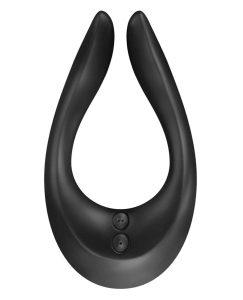 Satisfyer Partner Multifun
The appeal of the Satisfyer Partner Multifun is in the name. There are multiple ways to play with this vibrating sex toy. For a partner with a penis, use it as a powerful vibrating penis ring. As you penetrate a partner, you'll hit their hot spots, and no, we don't just mean the clitoris. If you wear it during anal sex in a missionary position, you may also stimulate your partner's perineum. And if you want to think outside the box, don't wear it at all. Hold it in your hand, and use it on your partner's nipples or any other erogenous zones on their body.
b-Vibe Remote Anal Beads
Yes, anal toys make great solo sex toys, but they're also perfect for partnered sex. B-Vibe Remote Anal Beads offer more stimulation and pleasure, no matter what kind of sex you have together. Wear it yourself while you penetrate your partner. Wear it during mutual masturbation. Hand the remote to your partner and let them pick the setting. Slide it into your partner and then focus on the rest of their body. Anal toys offer so many ways to play.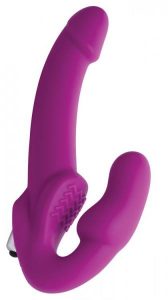 Strap U Vibrating Strapless Strap On
Love penetration as part of sex? Don't have a penis? That's what dildos are for! The Strap U Vibrating Strapless Strap On makes sure both partners get exactly what they crave. For the wearer, you get your own penetrative fun with G-spot and clitoral stimulation. Grind away on the ribbed pad for more pleasure. Your partner gets what they want with silicone and the G or P-spot stimulation they crave. If your partner has a vulva and loves clitoral stimulation too, add a vibrating penis ring or grab an external vibrator to hold against their clit.
Screaming O Ohare Vooom
Who would we be if we didn't include a vibrating penis ring in this list? The Screaming O Ohare Vooom combines a lot of amazing features into one toy. For your penis, you get a double penis ring. That means double the squeeze and double the pleasure. For your partner, not only do the vibrations come from a powerful bullet vibrator, but their clit gets two rabbit ears for, you guessed it, double the pleasure. This isn't your average penis ring.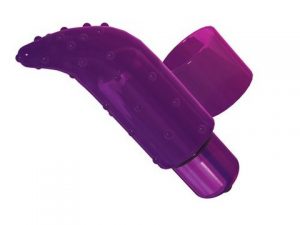 Frisky Finger Stimulator
Pick a finger vibrator, any finger vibrator. We picked the Frisky Finger Stimulator, but any type you choose will do the job. Put it on your finger, turn it on, and let your hands wander. Wherever you touch yourself or your partner, you'll get more sensation, stimulation, and pleasure. Leave it on their most sensitive spot until they're screaming in ecstasy. Tease their body with light touches. Do some combination of both. Your fingers will do the walking and talking, no matter what kind of sex you have together.
Conclusion
No matter what kind of sex you enjoy with your partner — penis-in-vagina, anal sex, mutual masturbation, sex over Skype, or whatever else, there's a vibrator to make it even better. Talk to your partner about what you both enjoy and look for the sex toy that will take your sexual pleasure to a whole new level!
Will you try any of these toys? Or do you have a favorite you already use? Share with us in the comments below!