You may already use a vibrator for your solo sex fun, and you may pull out an old favorite during certain types of sex with your partner. But have you ever added a vibrator to your strapon sex fun? If the answer is no or you've tried, and it hasn't been as fun as you imagined, maybe it's time to try a strapless strapon that also vibrates.
Here are seven vibrating strapons from Jack and Jill Adult you'll both love.
Strap U Royal Revolver
Strapless strapons, in general, are perfect for anal or vaginal penetration — for the partner on the receiving end. The Strap U Royal Revolver offers plenty of G-spot or prostate pleasure for your partner. But what makes this vibrating strapon so good is all the pleasure it provides both partners. You get a ridged clitoral pad for clit stimulation, and your partner gets the power and fun of the removable bullet vibrator sending vibrations up and down the shaft.
Strap U Vibrating Strapless Strapon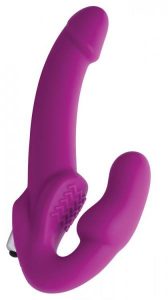 Like the Royal Revolver, the Strap U Vibrating Strapless Strapon makes your partner's G or P spot feel amazing, and you get the fun of the clitoral pad. The smooth silicone feels amazing going end (on both ends), and the bullet vibrator is powerful and removable. But what makes this toy so fun is that the wearer gets their own G-spot action, too. No more rubbing one out with your vibrator after penetrative sex is over. Find the right angle, and you'll get just as much pleasure as your partner.
Love Rider Rechargeable
Consider this a combination of a smart vibrator and a strapon. The Love Rider Rechargeable is made with dual motors so both of you feel all the vibration, pulsation, and escalation this toy provides. In fact, between the two motors, you get your choice of 30 different functions. Even better, the memory chip saves your last function so when you turn it on again, you don't have to spend time looking for the right setting. You and your partner will get your vibe on even faster.
Fetish Fantasy Inflatable Vibrating Strapless Strapon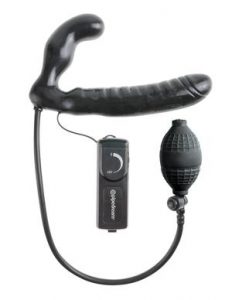 The Fetish Fantasy Inflatable Vibrating Strapless Strapon isn't your typical toy. Yes, the shaft vibrates using a powerful multi-speed bullet giving your partner as much pleasure as they can crave. But there's a little something for the wearer, too. You get an inflatable internal plug that can be made to fit your unique curves. Use the medical-style ball pump to get that full feeling you crave while your partner gets the penetration they need, too.
Strap U Double Take
The Strap U Double Take doesn't look like your typical vibrating strapless strapon. In fact, because of its unique shape, you can use it in a strapon harness if you'd prefer. The raised nub allows the wearer to grind their clit against it during penetration. The remote control lets you go hands-free for your mutual pleasure. Pick from 10 settings to find the vibrations and stimulation you both love best.
Strap U Pro Rider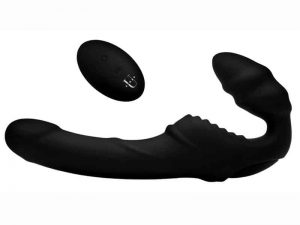 The name says it all here. The Strap U Pro Rider takes everything amazing about other Strap U strapons and turns it up a few notches. This toy is rechargeable and waterproof, allowing you to play more often and in a variety of ways. You get the clitoral pad you crave as the wearer and a wireless remote to control the vibrations. The dual motors mean you both feel the sensations with three speeds and six patterns to choose from. You'll feel like a pro when you strap-in to this strapon.
Vibrating Strapless Strapon
Want a vibrating strapless strapon that's a little less intimidating? The Vibrating Strapless Strapon offers G-spot stimulation for the wearer and G or P spot stimulation for your partner. The design is sleek and elegant without all the bells and whistles of other models so you can start your strapless strapon experience with a little less pressure. Use the push-button control to find the perfect setting for both of you, and enjoy the ride together.
Conclusion
You never have to go without a vibrator during partnered sex, no matter what kind of sex you enjoy together. For strapon fun, look for a vibrating strapless strapon that makes you both feel good, inside and out.