Pegging, a form of anal play some couples enjoy, requires more than finding the perfect strap-on dildo and harness. If it's something you and your partner want to try, make sure you know what to expect ahead of time so you can focus on having fun and connecting. Go into pegging with no prior information, and you might turn a fun, sexy thing into a bad experience. Here's what you need to know first.
Pegging Isn't About Sexuality
Too many guys think that when anything gets close to their butt, it says something about their sexuality. Any form of anal play, from a prostate massage to full on pegging, is about the pleasure you feel with yourself or a partner. You're not any less straight because you enjoy the sensations and stimulation. What feels good to your body isn't the same as who you're attracted to as a partner.
It's Okay to Clean Up First
Full disclaimer: When you play with a butt, there might be poop. You don't want to try pegging after someone's eaten bad tacos, of course, but being squeaky clean isn't really necessary, either. Take a shower and do some light cleaning back there first, and make sure it's been a few hours since your last bowel movement. Watch your diet for a few days to make sure everything moves like it should. And if you really can't stand the thought of a streak of brown being found later, you can always try an enema, but be careful and read the instructions first.
Start Slow and Small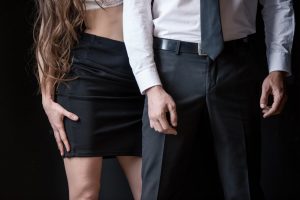 If you've never had anything near your butt (or you've never inserted anything in your partner's butt) pegging isn't the first thing to try. Start with a finger or two. Get a small butt plug. Try a slender dildo or anal probe before getting a big, thick dong. Take your time as you get used to anal penetration. No one should be in a rush. If you go too fast, it can be painful and make it harder to try later. In really bad situations, starting with a too-big sex toy can even cause injury.
Use Lots of Lube
When you're doing any kind of anal play there's no such thing as too much lubricant. Use lube appropriate for your dildo. Water based lubes are for silicone, TPR/TPE, and other softer materials and silicone lubes are good for glass, metal, plastic, and non-porous materials. Start with more than you think you'll need, then add even more lube. The rectum doesn't produce natural moisture like the vagina or penis so the only way to prevent painful friction is to add lube as often as needed.
Find the Right Dildo and Harness
For partners new to the idea of pegging their partner, it's important that you find a dildo that's comfortable for both of you and a harness that feels good when you wear it. The last thing you want is to get the equivalent of a carpet burn because a strap rubbed you the wrong way or for the harness to fall off in mid thrust. Try a few out to find what works. Walk around with your strap-on and harness on to get used to the weight and feel. Make adjustments as needed. It will be worth the extra effort.
Communicate…a Lot
Any sexual act you try for the first time can be a bit nerve-wracking and exciting all at the same time. It's important to make sure you're both in a good place and enjoying the moment. You can always stop if one of you becomes overwhelmed. Spend a lot of time communicating about what you want and need before the first time you try pegging. Keep talking during and after the moment. Check in with each other and adjust for future play if you need to. There's no shame in the first pegging experience not being perfect. You can always try again later.
Try Different Positions
As the partner inserting the dildo into your partner's body, this can take practice. Just like you don't like every position you've tried for penetrative sex, your partner might not either. Switch things up and try to keep a sense of humor during the experience. Listen if something hurts your partner or doesn't feel good and offer to change positions or try something else. It may take a bit of practice, but you can find a position that works for both of you – even if it looks nothing like what you've seen in porn.
Conclusion
Pegging can be a fun and satisfying sexual experience for both you and your partner. Take your time and talk about what you both want out of the experience. Choose a dildo that works for you both and a harness that feels good once it's on. With a bit of preparation and lot of communication, pegging can become a regular part of your sex life together.
Curious about pegging? Share the infographic below with your partner!