Do you have a favorite color? Do you care what color your sex toys are? To be honest, most people don't care as long as they get a mindblowing orgasm from it. That's fair.
Some people, though, definitely have a preference in color. Take a look at their sex toy collection, and you'll figure out exactly what color they like. In a new series, let's take a look at some great sex toys that also happen to be the same color. If you absolutely adore the color purple, this one is for you.
Wild Orgasms Twin Teasers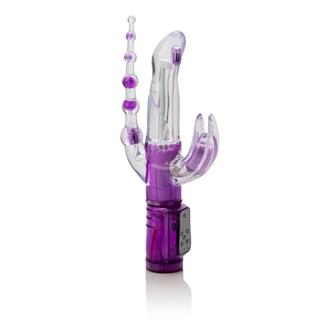 If you're interested in a purple vibrator on steroids, look no further than the Wild Orgasms Twin Teasers. This rabbit not only provides G-spot and clitoral stimulation, you can also count on a little stimulation at the back door, too. It's got over 200 patterns between the vibration, rotation, and pulsation options. You could be a wet, screaming, writhing mess with this one, and you might not be able to decide which spot feels the best.
 Je Joue Mio
A penis ring that's both beautiful and functional? Yes, please! The Je Joue Mio has five settings to make both you and your partner very happy. Get him hard, apply a little water-based lube, slide the ring into place, and start having even more sexy fun. He'll stay harder, and you'll feel even more with each thrust to send you both over the edge…eventually.
 Quaker Anal Vibe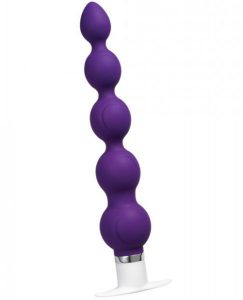 You might not get to see your anal toys once they're inserted, but that doesn't mean you shouldn't have one in your favorite color. The Quaker Anal Vibe is a vibrant indigo. It also happens to be a strong, stimulating anal toy that lets you go at your own pace. Whether you're new to anal play and can only take a little, or you adore anal stimulation and want to take as much as possible, this is the anal vibe for you.
Sensuelle Bullet
The Sensuelle Bullet is small but mighty, as a bullet vibe should be. It's quiet, powerful, and ready to send you into orgasmic bliss. The shaft is twice-dipped in silicone making it ultra soft. It's rechargeable so plug it in, and it'll be ready when you are. You'll have over 20 sensations to choose from so the odds are good you'll find exactly what you need in a color your love.
 Vibrating Strap-On
Who says you can't have a purple penis? Not Fetish Fantasy, the makers of the Vibrating Strap-On. Whether you want to give her penetrative pleasure or he can't stop thinking about being pegged, everyone's going to enjoy this harness. Even better, this is a hollow strap-on so if your man has erectile dysfunction issues, he can slip this on and still enjoy the feeling of pounding into you.
Embrace Body Wand
No purple toy collection would be complete without a wand massager. The Embrace Body Wand is vibrant and powerful. Because both ends vibrate, you can even use it in couples play. Choose from seven different sensations that allow for vibration, pulsation, and (best of all) escalation. It's rechargeable and made of body-safe silicone.
Lucid Dream G-Spot Vibrator

When you want your vibrator powerful and pretty, the Lucid Dream may be the way to go. It's got 14 speeds to choose from, and it's waterproof so you can have a little bathtime fun with it. The unique design and extremely quiet motor could be your undoing, in the best possible way. And when it's driving you crazy in all the right spots, you only have to slide your finger to change things up.
Conclusion
Is your favorite color purple? Do you need even the slightest excuse to buy new sex toys? Here's yours. Take a look at your sex toy collection. If it's sorely lacking in indigo, grape, plum, violet, or any other shade of purple, there's a toy out there that brings you pleasure either when you use it or when you look at it.
If you're not a fan of purple, don't worry. More colors will be highlighted in this ongoing series so you can find a toy that matches your personal collection.
Let us know in the comments what your favorite color is! If it's purple, do any of these strike your fancy?