Like all forms of penetrative sex, pegging is meant to be pleasurable to both partners. If you're wearing your favorite strapon and dildo, you want to have as much fun as your partner who wants you to penetrate him. While choosing the right gear is important to make sure you both enjoy the moment, the position you use makes a big difference, too.
If you're not sure where to start or you're struggling to find the right angle, check out these positions that will make pegging better for both of you.
Doggy Style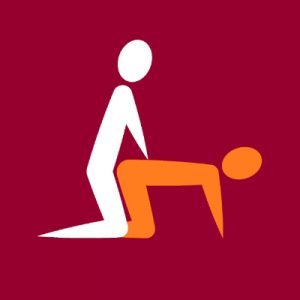 Doggy isn't just for penis in vagina (PIV) sex. It's great for all kinds of penetration, including your strap-on and his booty. It can be modified in a few ways by being up on all fours or lowering his head down to the bed in whatever way is most comfortable. You can kneel behind him as long as it's comfortable for your knees, too. He still has access to his penis for stimulation, and you can switch up who has control over the pace.
Missionary
Again, it's time to take an old classic and make it work in a new way. Missionary isn't just a "vanilla" sex position. It may get mocked, but it's great for maintaining eye contact and easily communicating during any kind of penetration. Your partner doesn't have to strain too much which gives them a break. As the one wearing the harness and dildo, you'll be doing most of the work. If it's uncomfortable or tiring for you, switch to a different position.
Spooning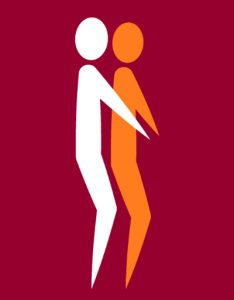 Spooning is a close, intimate position for sex of all kinds. His back and legs will pressed into your chest and legs. Have him arch his back a little so his butt sticks out, giving you easier access. Any sexual position can be sweet and romantic, but spooning is made for it. Run your hands over his body. Stroke his penis. Ask him to touch himself. Whatever gets you both excited is all that matters.
Stand Up
This works well when you're both of a similar height or if you enjoy rocking heels during sex. Press him up against the wall, have him arch his butt out a bit, and peg him standing up. It's hot and can be extremely kinky. Use it in your BDSM role play or fantasies. Try it as a way to making your pegging fun feel like new again. Or do it because you really love the idea of wearing your heels while you penetrate your partner.
Cowboy or Reverse Cowboy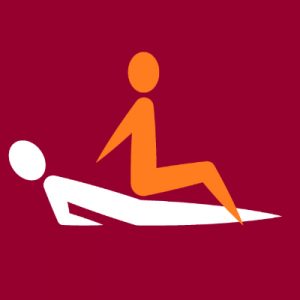 That's right, you're going to watch your dildo stick straight up and get swallowed up by your man's body. He can sit on your fake phallus and face you (cowboy) or turn away and face your feet (reverse cowboy). He gets to control the pace and the depth of penetration which can make it a more pleasant experience for him. You get a break from the exertion of other sexual positions, and you get to watch him enjoy himself from a different angle.
Chair Sit
If lying on your back isn't good for you but you both like the idea of cowboy or reverse cowboy, you can also try a chair sit position. Put on your strapon and harness, lube up, and sit in the chair. Your partner will position himself over the dildo as he sits down. This position also offers him more control over the pace and the speed of your pegging fun. It's another one where you get to sit back and watch his pleasure with a little less effort.
Bend Over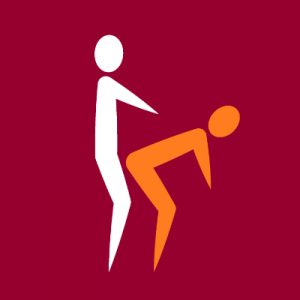 A cross between doggy style and standing up, bend over is exactly like it sounds. Your partner will bend over something — a table, a chair, the couch, the bed, wherever. Peg him from behind with your big, thick dildo. This can be more comfortable than doggy if his knees bother him. It can also be kinkier for your both, depending on the fun dirty talk you use to get him into position and what kind of fantasy you're playing out.
Conclusion
There's no single right way to enjoy pegging with your partner. Little dildos, big dildos, missionary or bent over the kitchen counter — all that matters is that you both enjoy the sex you're having. If you're finding any single pegging position awkward, try another one. Some take practice, and others might not work for you. The key is to move slowly, use plenty of lube, and find what you enjoy best.
Know someone who could use a few pegging tips? Want to spread the love of strapons and dildos to others? Share our infographic below!