Want better sex with a partner or with yourself? Looking for extra stimulation, stamina, and size? The right penis pump can make all the difference in your sexual experience and pleasure. Penis pumps offer temporary, non-invasive, and pleasurable penis enhancement. As a result, you get more pleasure and better sex!
Reasons to Use a Penis Pump
Penis pumps are considered enhancement aids, and for good reason. They're made to help you get hard and add girth and length. But you can also use penis pumps to add sensations and pleasure or to get kinky with your partner. And, of course, as with any sex toy, you can and should play with a penis pump simply because you like it.
Which penis pump should you get? Check out these seven options.
Head Coach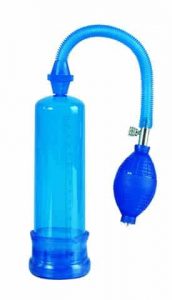 Are you looking for a way to whip your junk into shape and get it ready for the big event with your partner? Try the Head Coach Erection Pump. The soft sleeve and easy pump will help you reach your goals — bigger erections, more pleasure, and better sex.
Power Pump
The Power Pump comes in a range of colors — red, blue, purple, and green, so finding what you like is easier than ever. No battery required for this penis pump. You'll squeeze the pump until you're ready to stop. Raised nubs on the inside of the sleeve offer added stimulation and pleasure.
Dr. Joel's Power Pump
Want something the experts love? Try Dr. Joel's Stroking Power Pump, endorsed by Dr. Joel Kaplan. This stroker pump offers multi-speed vibrations and a robotic stroking action. Yes, you can use it to get yourself ready for sex with your partner. Or you can enjoy it as a fun way to have better sex (masturbation) with yourself!
Titan Pump
Not looking for fancy buttons or tricks in your penis pump? Want something strong enough to handle all your desires? The Titan Pump is a no-nonsense tool. It's sturdy and durable with a sure-grip handle and push-button release valve. This pump has one job and one job only — and it does it well.
The Original Male Enlargement System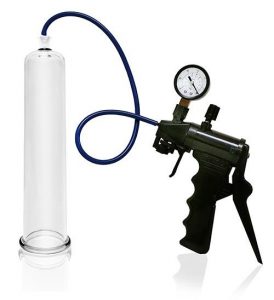 Available in a variety of sizes (from 1.75 inches to 2.25 inches), the Original Male Enlargement System focuses on what many men want in a penis pump — a bigger dong. This FDA-approved penis pump is an investment in your penis enhancing pleasure. It includes a hand-trigger vacuum pump and as tube made of medical grade acrylic. It helps reverse shrinkage, reduce premature ejaculation, and boost your confidence in the bedroom.
Beginners Vibrating Pump
If you've used penis pumps for a while but want to add extra sensation to your experience, the Beginners Vibrating Pump is a great option. The medical-style pump is easy to use, and the clear tube lets you watch yourself get bigger and harder. The quick-release valve quickly eases pressure and discomfort, and the multi-speed vibrating bullet provides extra stimulation and pleasure while you pump.
Fanta Flesh
Looking for a penis pump that offers more than the standard pumping action? Check out the Fanta Flesh. It combines what you love about penis pumps with everything you crave in a masturbation stroker. Pump yourself for maximum erections and pleasure, and then stroke yourself for bigger, better orgasms and increased stamina (which your partner will love!).
Penis Pump Tips
Before you play with any of these penis pumps, remember a few handy tips.
Always add lube before placing the tube over your penis. This helps avoid unnecessary friction and pain.

Use the quick-release valve or button while pumping if you feel overwhelming pressure or pain. It's rare, but penis

injuries can occur

if you over pump.

Do not pump for more than a few minutes at a time, and remove the pump after 15 minutes or so.
Conclusion
No matter what your reasons, using a penis pump is no different than using any other sex toy. It's a tool to enhance your pleasure. Making you feel and look bigger and giving you harder erections is part of that, but it's okay to use a penis pump just because it feels good, too. Use it alone or with a partner. Play with it because it feels good or because you want to increase your stamina (or both!). The only thing that matters is that you find the one you like and that you use it safely.
Have you tried any of these pumps? Do you have a favorite? Comment below and let us know!