Sometimes you want a stroker that looks exactly like the partner you're missing, and sometimes you don't. If you're jonesing for a new masturbator but don't want a pair of lips staring back you, you're not alone. There are plenty of strokers and sleeves that feel amazing without looking like anyone in particular. When you use them, you can let your imagination take over and have any fantasy you want.
Check out these seven amazing masturbators that look out-of-this-world and still offer mind-blowing pleasure.
Cyber Snatch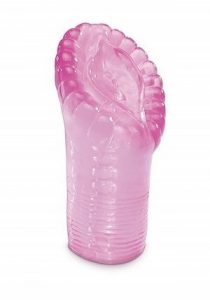 When you're looking for a masturbator that fits in the palm of your hand without looking like a peach-colored vagina, check out the Cyber Snatch. Don't let the pink color fool you, though. The futuristic look and realistic feel will send you into a state of orgasmic pleasure. Add lube, and you'll never believe this stroker isn't the real thing wrapped around your shaft. When you're done, store it away out of sight and keep your new favorite toy on the DL.
Deep Curve
If keyboards, controllers, and tools can be ergonomic, why can't your stroker? The Deep Curve gives you all the grip you expect from a stroker with more flexibility and control. Save your wrist and put the focus on your dong. The tight ribbed chamber is soft and feels like a real, warm, willing body without looking like one. Watch your shaft move in and out around the curve for multiple kinds of satisfaction while you masturbate.
Sexy Snatch
Looking for a tight entry, plenty of sensation, and a big orgasm? Try the Sexy Snatch. You get six inches of super-stretchy material combined with four embedded pleasure-pearls. The sleeve feels realistic while you enjoy out-of-this-world pleasure from the beads. Add lube for even more comfort, and set the tempo for whatever you want most. Slow and sensual for drawn out pleasure or hard and fast for a heart-thumping climax.
Snatch Masturbator
Like the idea of the pearls but don't want to use yet another pink masturbator? Check out the Snatch Masturbator. You get a clear, ribbed tunnel so you can watch yourself moving in and out along with five embedded pleasure-pearls for even more stimulation. It's also open-ended so shafts of any size can enjoy all this masturbator has to offer. Plus, clean up is quick and easy so you can use it anytime you're in the mood.
Super Cyber Snatch Pump
What's better than a sleeve wrapped around your thick, throbbing erection? Try a penis pump for added sensation, girth, and explosive pleasure. The Super Cyber Snatch Pump combines these two amazing sex toys into one mind blowing combination. Stroke and then pump; pump and then stroke. No matter how you do it, be prepared for pleasure like you've never experienced before.
Zolo Original Pocket Stroker
Zolo, in general, offers multiple styles of masturbators for every desire and craving. But if you want a stroker that doesn't look like a pair of lips — of any kind, check out their Original Pocket Stroker. It's small but mighty and allows you to focus your stroking pleasure wherever you enjoy it most — shaft, tip, or at the base. Even better, bring this pocket stroker into the bedroom with your partner and use it for extra stimulation during your next blowjob.
Zolo Zeppelin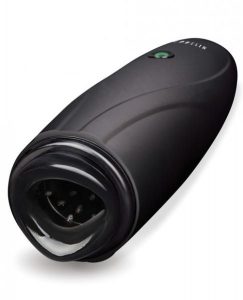 Looking for a stroker unlike anything you've ever experienced? If you've got the cash to drop on your orgasms, check out the Zolo Zeppelin. Not only does this masturbator look unlike anything you've ever seen, it doesn't feel like it, either. The sleeve is filled with stimulating nubs and beads, while the opening is soft and easy to sink into. But that's not the best part. Turn it on and choose from seven rotating functions. Sit back and let it do the work for you or add a literal twist to your stroking pleasure.
Conclusion
Weirded out by a set of vaginal lips at the end of your stroker? You're not alone. Love realistic strokers but are you bored using the same old thing? It happens. Crave a new kind of orgasm? Don't we all? Choose from any of these toys and blow your load with more pleasure, enjoyment, and excitement than you've felt in a long time. Jacking off doesn't have to be boring or routine, not when you can find a new masturbator from Jack and Jill Adult.
Have you tried any of the masturbators on this list? What's your favorite? Share in the comments below!