Most people have a favorite color. You surround yourself with it whenever you can. Your phone case, your favorite shirt, even the sheets on your bed are in the hue you can't live without. Why should your sex toy collection be any different? In an on-going series to help you find good, quality sex toys in your very favorite color, it's time to show blue sex toys some love.
Gigaluv Bella's Curve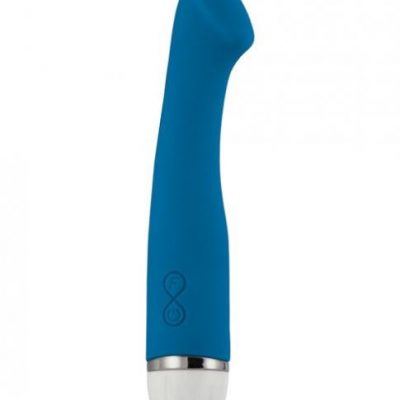 Whether you think the g-spot is a myth or not, Bella's Curve is still a toy that can stimulate the body in plenty of new ways. Insert this vibrator against your g-spot, and use the 10 different pulse patterns to find the right spot and tempo to drive you wild. It only needs two AAA batteries to get you off. Use it by yourself or with a partner and have a good time!
Unicorn Tail Butt Plug
Whether you're a kinky person or someone who adores unicorns (or both!), this blue unicorn tail is for you. You'll get some sexy anal play with different sensations and maybe even some of that "anal training" you've heard of. You can also swish and sashay and flick your tail as sexily as you want. Use it in your kinky cosplay or walk around naked with your pretty blue tail. Either way, have a good time. The rule of life is to be who you are, except when you can be a unicorn, always be a unicorn.
Vibrating C-Ring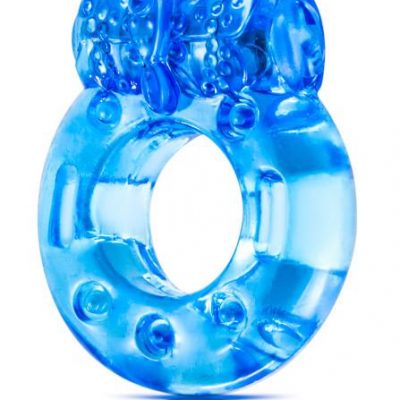 Blue doesn't have to be a color for guys, but since it can be, why not get a blue penis ring if you have a choice? It's got a stretchy band to wrap around your penis or your testicles. The closer you get, the more intense everything will feel. Turn it on and let the vibrations make both you and your partner feel even better. Use it when you masturbate, during your kinky play with your favorite top, or while you're having sex with your partner.
Ina Wave Vibrator
Need something more than just clitoral stimulation or g-spot stimulation? The Ina Wave vibrator offers both. Insert it deep inside to hit your g-spot and press it against your vulva for even more intense sensations. With 10 settings to play with, you'll find something that feels just right for you. It's fully waterproof so feel free to take it in the bath or shower with you. When you're done, plug it in – that's right, no batteries!
Clit Exciter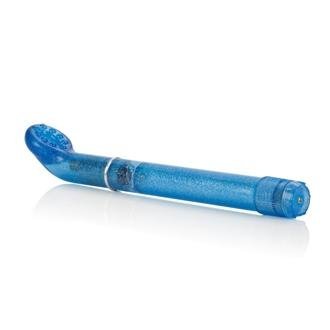 What clit-owner doesn't want to excite their clitoris? That little button of flesh is filled with more than 8,000 nerves, all begging to make you feel really good. This ergonomic clitoral vibrator is made to be used upside down as you down it against your body. The wide, flat tip will cover your clitoris so that you feel every single vibration. Use it in the bathtub or on dry land. The long shaft gives you more to maneuver with it, no matter where you are.
Icicles No. 5
Glass dildos aren't just functional, they're beautiful works of art. You could probably put some of them out on your coffee table and your mom would never realize what it is. The Icicles No. 5 is clearly a dildo, though, with its phallic shape and functional blue swirls. The texture gives you something new to feel while you play with it. Make it kinky and sexy by using it hot or cold in sensation play – alone or with your partner.
American Pop! Realistic Blue Dildo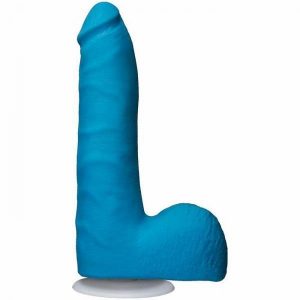 When you don't have a partner to give you what you need, you have to take matters into your own hands – or dildo. Thanks to the suction cup bottom of this vibrantly blue dildo, you can stick this on a wall, or in the shower, or wherever, and pound yourself. Even better, you don't have to worry if this particular partner has blue balls or not (the answer is yes!). All you have to do is masturbate the way you love best.
Conclusion
Sex toys that feel good, get you off, and make you want to masturbate until you pass out don't have to be any specific color. It's always important to shop around for what works best for your body. But if you have a favorite color and would rather look for a blue sex toy, give some of these a try. You deserve a sex toy that makes you happy when you use it and when you look at it!
Know someone who loves the color blue? Share the infographic below with them!