For some, virtual reality (VR) means wearing googles and inserting yourself into the action of some other world or experience. For others, VR is about connecting so that the sensations and experiences are more real and fuller because of that connectivity. No matter how you think of it, it's no surprise that sex toy companies have figured out a way to give people both forms of virtual reality pleasure.
Whether you're looking for a full-body virtual experience or a way to enhance the sensations and genuinely feel your partner across the distance, these sex toys bring your fantasies to life.
Pro Stealth Stroker and VR Glasses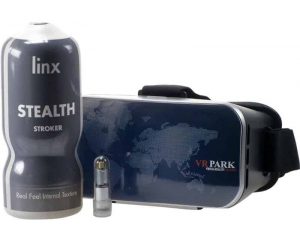 If you think of VR glasses when you think of virtual reality, you're not alone. The Pro Stealth Stroker and VR Glasses are quintessential VR sex tech. The masturbation stroker vibrates with the help of a removable bullet vibrator. And your VR experience occurs with the headset that connects to all major adult VR providers. Yes, VR porn is a thing. The Pro Stealth Stroker is also compatible with most newer Android and iPhone models so you can use your phone instead of getting your laptop sticky. No matter what kind of virtual reality porn fantasies you have, you can masturbate in the virtual world with your very real toy.
LELO F1 Prototype
This is less the common virtual reality experience and more of an opportunity to hack your own sex toy and pleasure. The latest advancement in sex tech from LELO is the F1 Prototype, a masturbation stroker that uses LELO's SenSonic tech to stimulate you with sonic waves. To say this isn't your typical masturbation stroker is an understatement. Beyond the tech in the toy, you've also got access to the free Software Developer Kit. This is where the hack comes in. You can create your own sensations, track your progress, and do more with this stroker because the control is literally in your hands — and your computer.
Kiiroo Onyx+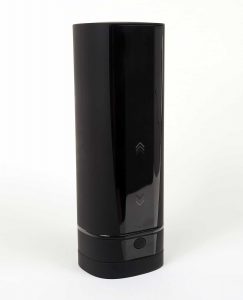 Kiiroo is the biggest name in VR sex toys and for good reason. The Kiiroo Onyx+ is an interactive masturbator and the third generation of this specific model. Onyx+ is similar to the older models in that its powerful but quiet. But it now includes a new rotary motor which changes the sensations you feel and moves at up to 140 strokes per minute. What makes this stroker a VR contender is the connectivity it provides and the sensations you feel. Connect it to a partner with their own Kiiroo toy (Pearl or Onyx), and you'll feel what they do with their toy as if you're touching each other. But you can also connect to interactive VR content — VR porn, 3D gaming, even 2D video — and take your solo sex to a new, virtual level.
Kiiroo Titan
The latest masturbator option from Kiiroo is the Kiiroo Titan. It offers touch-sensitive vibration technology, allowing you to control the speed and intensity of your stroker with a single touch. The Titan can be used alone as a typical stroker, or you can connect it to the compatible VR, gaming, or video option that fits your fantasies. While you watch and stroke, you're immersed in the experience. You'll feel every movement and moment of your interactive experience whether it's 2D or VR.
Kiiroo Pearl2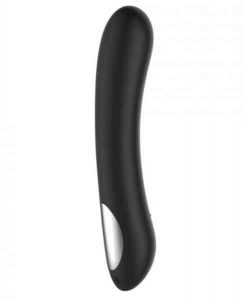 You didn't think Kiiroo only made strokers, did you? Not at all. The Kiiroo Pearl2 is the second generation G-spot vibrator made to pair with any other Kiiroo toy. Use the vibrator to get yourself off and have a good time alone, using the touch-sensitive technology to easily adjust to your unique needs. When you pair your Pearl2 with another Kiiroo model or to any Kiiroo compatible platform, you take your pleasure to a new level. Connecting your Pearl2 to another device lets each partner feel what the other is doing with their toy. It allows you to virtually close the distance between you and have sex together.
Kiiroo Cliona
For the longest time, the only vibrator option from Kiiroo was the Pearl. All that has changed with the Kiiroo Cliona. For those who need clitoral stimulation and want something that fits in the palm of your hand, this is the high-tech vibrator you've been looking for. Because of its size and shape, you can place it exactly where you need it against your clit to maximize pleasure. As with all Kiiroo toys, connect Cliona to other devices and to VR porn, 2D, 3D gaming, and other compatible sites.
Conclusion
Virtual reality probably wouldn't exist as we know it today if not for porn. Most VR advancements occurred because of it. So it makes sense that sex toys would get in on the virtual (but still very real) fun. To have a sexy VR experience, you only need a set of goggles, but if you want to take your pleasure to new heights, add a VR sex toy.
Are you curious about using your sex toys in virtual reality? Have you tried it already? Share your experience down in the comments!