Ben Wa balls can do all kinds of amazing things for you and your body. No, they can't cure cancer or end world-peace, but they can improve your sex life. Really! Ben Wa balls give you a reason to want to Kegel (something you should do anyway), because when you Kegel with Ben Wa balls, it feels so freaking good!
Kegels are meant to give you strong pelvic muscles to keep you from peeing a little when you sneeze, cough, or laugh. But the thing not enough people know is that strong pelvic muscles can improve your experience with sex and give you stronger orgasms, too.
But all exercises need a little spice to keep them interesting. When it comes to Kegels, that's where Ben Wa balls come in.
Here are six of the top Ben Wa balls as rated by Jack and Jill Adult customers!
Luna Beads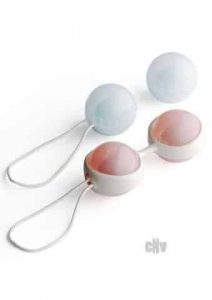 LELO always puts out high quality sex toys, and the Luna Beads set is no exclusion. These are designed to genuinely strengthen your pelvic muscles. Of course, if you get turned on while you "workout," that's a bonus. You can mix and match the weights so you get a different sensations each time you insert the balls. Each set comes with two 28 gram beads and two 37 gram beads. Luna Beads are recommended for people who've given childbirth or those who have vulvas and are over age 30.
CyberGlass Ben Wa Balls
When you think of Ben Wa balls, you might imagine beautiful glass balls. The CyberGlass Ben Wa balls deliver on that expectation. These are hand-blown glass balls with delicate inlaid blossoms — blue, yellow, and more. Thanks to the glass, the balls are heavier than some others on the market. Due to their size and ease of use, they're great for beginners and Kegel experts alike. If you want something more old-school and traditional, these are a great option.
Inner Goddess Ben Wa Balls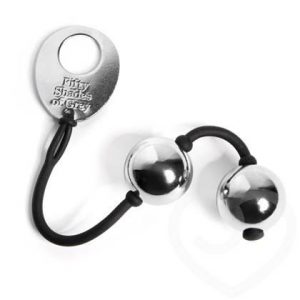 If Ana Steele's "inner goddess" got your attention in Fifty Shades of Grey, now is the time to experience it for yourself. Fans of the erotic trilogy can get in touch with your own desire with the Inner Goddess Ben Wa Balls set. These metal and weighted balls will shift and move inside your body, strengthening your muscles while turning you on. If you need to pull out your dog-eared copies of the book or boot up the e-reader while you use them, we won't judge.
Vibrating Ben Wa Balls
Anything and everything can vibrate in the name of pleasure, including your Ben Wa balls. The Real Skin Vibrating Ben Wa balls are super soft making you feel good inside and out. Choose from four vibration modes and see if you can Kegel your way to a few good orgasms. If you can squeeze along as you change the settings, you might find a new way to get yourself off, in the name of "exercise" of course. And all without breaking a sweat!
Crystal Glass Eggs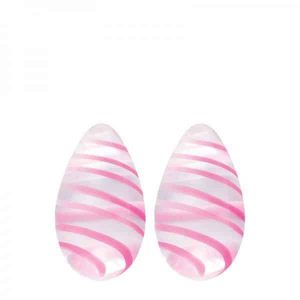 Are you familiar with yoni eggs? These Crystal Premium Glass Eggs are designed with yonis in mind. These gorgeous egg-shaped Ben Wa balls feel good and help strengthen your muscles. They're also great for temperature play. Heat them up for one sensation or pop them in the freezer for another. Because they're made of glass, they're easy to clean and sterilize, too. Have fun alone or with a partner.
Orgasm Balls
Technically Orgasm Balls aren't really Ben Wa balls. Yes, they can be used to strengthen your pelvic muscles and have fun while you Kegel. But in reality, their purpose is to get you off and make you feel good in a hands-free way. While they do vibrate, it won't be in a way you're used to. Although the manufacturer says that you can bring yourself to orgasm with them, it won't be the same as using a vibrator or other sex toy against your body. But that doesn't mean you can't enjoy them!
Conclusion
Kegel exercises are often forgotten and misunderstood. Everyone has pelvic muscles, and everyone benefits from a few Kegel exercises each day. But only someone with a vulva can also enjoy the secondary benefit of sexual pleasure, heightened awareness of your own body, and even orgasms with Ben Wa balls.
Just like other sex toys, how Ben Wa balls feel to you will be unique from set to set. Look for high-quality materials and a shape that feels good in your body. Once you find your perfect Ben Wa balls, you may never want to take them out.
Have you ever used ben wa balls? Do you want to? Let us know in the comments!