Unless you're one of the most flexible people in the world, oral sex always requires a partner. When you crave a tongue on your clit, you want it to be good.  But when there's no willing partner (or tongue) close by, you've got to take your sexual pleasure into your own hands — or sex toys. If you've thought that oral sex was something you couldn't do on your own, think again. With the right vibrator that can mimic the tongue action you're craving, you can indulge in the pleasure you really want. Even better, it lasts as long as you want or until the batteries die.
Here are six tongue vibrators you'll want to try for your next orgasm — especially if you're missing oral sex.
Power Buddies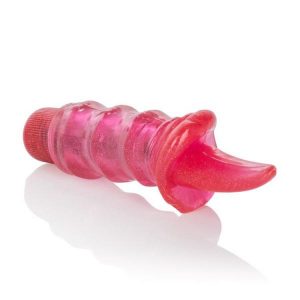 What happens when you combine a silicone tongue with a powerful bullet vibrator? You get the pleasure you want most even when you're going solo. The Power Buddies Mini Vibrator offers the shape, structure, and flexibility of a real tongue without the hassle of swiping right, chatting, and planning a hookup. Make this little tongue vibrator your new buddy.
Tongue Twister
If you love the versatility and flexibility of a real tongue, the Tongue Twister may be exactly what you need. It vibrates and rotates to give you more of the realistic oral pleasure you're missing. Even better, this tongue next gets tired. It keeps rotating and vibrating, at multiple speeds, until you're ready to stop — and not a moment sooner.
Maro Kawaii
Do you love a beautiful sex toy that looks elegant even as it's getting you off until you scream? The Maro Kawaii may be your next favorite vibrator. It's small and understated, but the action all happens on the tip of the "tongue." Enjoy six vibration patterns which add to the sensations. The real fun happens with the six rotation patterns which rock the tip back and forth just like a real tongue on your clitoris.
Marvelous Flicker
The Marvelous Flicker is an easy-to-use silicone massager designed to flick and lick your clit in the way you love best. You get 10 functions that vibrate, pulsate, and escalate until you orgasm. Could your last partner's tongue do all that? Probably not. This beautiful and sleek tongue vibrator is USB rechargeable and features a security travel lock so you can take it with you anywhere you go. 
Aria Hot Tongue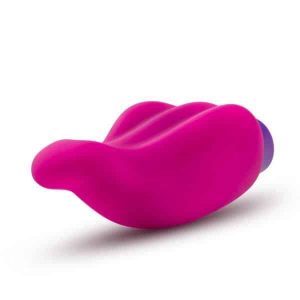 The tip of a tongue feels good, but sometimes you want to feel sensations beyond just the tip. That's where the Aria Hot Tongue excels. Yes, you can get all the licking you want, but you also get vibrations throughout your body because this vibrator nestles comfortably against your vulva. Choose from one of five speeds and five unique patterns to get the pleasure what you're craving most. And if you want, remove the bullet to use it on its own in other creative ways. The power and pleasure are in your hands.
Gyrating Pleasing Flutter
Everything about the Gyrating Pleasing Flutter is soft. From the handle that's comfortable to hold onto as long as you want to the tip that licks and taps you in your favorite spots. This is a great beginner tongue vibrator. It has two speeds and the tips vibrate and gyrate to mimic oral sex. For once, you'll be ready to quit before the "tongue" against your clit gives up.
Tips for Using Tongue Vibrators
To have a better experience with your tongue vibrator, keep these tips in mind:
Use water-based lube. This increases the realistic sensation of a tongue against your body. 

Re-apply lube as needed. If your body isn't getting or staying wet, keep adding lube so it continues to feel good.

Experiment with the settings before applying the vibrator to your clit. Find what feels good in your hand, and you're more likely to enjoy it against your vulva.

Clean your tongue vibrator after each use so it's ready to use whenever you're ready to play.
Conclusion
A real, live tongue feels really good when it's used right, but you don't have to do without just because you're single. The right vibrator can mimic the motions and sensations to get you off in the way you want most. Try a new sex toy today and give yourself all the pleasure you crave and you deserve!
Do you think you'll try a tongue vibrator? Have you ever used one? Feel free to share your experiences down in the comments!