The best part about using dildos to penetrate a partner, instead of a penis or finger, is that you can change things up whenever you want. Want a different color? Try another dildo! Jonesing for something thicker, thinner, or more textured? There's a dildo to fit your needs!
Whether you're new to pegging or you've been penetrating partners with dildos for years, there's always something new to add to your dildo collection. Check out these six silicone dildos for body safe pegging fun.
Why Pegging?
Pegging is, typically, considered anal sex with a man (or person with a penis) on the receiving end and a woman (or person with a vulva) on the giving end. But penetration is penetration. These dildos can be used for vaginal penetration, anal penetration, and oral sex. So even if your partner doesn't want anal penetration, these dildos are great for plenty of other penetrative fun.
Cici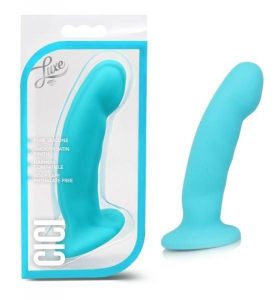 The Cici from Blush Novelties is a smooth, relatively small and thin silicone dildo. That's ideal if you or your partner are new to pegging or any other type of penetration. Once wet — with lubricant or other fluids — your dildo will be slippery and should glide in with ease. At just over five inches long and a little over an inch in diameter, it shouldn't be too intimidating for a beginner.
Silk
The Silk by Tantus comes in multiple colors and three sizes. For the newbie, start with the small which clocks in at just over four inches long and less than an inch in diameter. As you get used to the sensations and your body adjusts, you can switch up to a medium and then a large which is seven inches of silicone goodness. The smooth texture helps you feel nothing but pleasure as your body adjusts, and makes the lube feel even more slippery.
Curve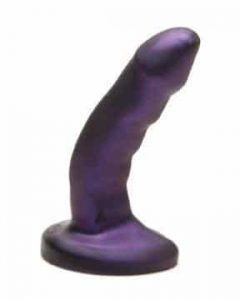 Once you have an idea of what you enjoy, you might find you want a dildo with a bit of a curve to it. The Curve by Tantus aims to please. For pegging fun, it should hit the prostate for bigger and better orgasms. And if you're using it vaginally, it can hit the g-spot for even more pleasure. This silicone dildo is nearly seven inches long and 1.5 inches in girth so you'll definitely feel this one. If you're new to penetration, take your time with this one.
Acute
The Acute from Tantus is a cute little dildo (pun totally intended). It's not the biggest of the bunch which makes it great for a pegging beginner. It's only five inches in length but as a slight curve at the end to stimulate the prostate. Like other Tantus dildos, it's silky smooth and glides in and out with ease.
Leisure
Do you like nice leisurely penetration? With the Leisure by Tantus, you just may get it. It's seven inches of silicone delight and includes a removable bullet vibrator for extra stimulation. This smooth dildo will make your partner feel good inside and out. Add plenty of lube, turn on some slow sexy music, and take your time with each other.
Feeldoe Slim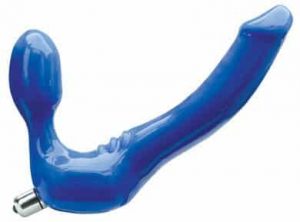 The Feeldoe Slim is just one of many strapless strapons from Tantus. If your partner is new to penetration, this slender option may be an easier fit. If you're the one doing the penetrating, consider this an advanced-level toy. The small bulbish end is held in the vagina by squeezing the vaginal muscles (or Kegeling). Strapless strapons allow for skin-to-skin contact which can be much more intimate and pleasant. The Slim includes a two-inch vibrator for extra sensation.
Why Silicone?
While silicone dildos tend to cost more, they also last longer and are safer for you and your partner. You can easily sterilize a silicone toy by putting it in the top rack of your dishwasher or boiling it for a few minutes. This means you know it's clean, and you can even share it with different partners. It also doesn't hold onto smells like porous materials can. Contrary to popular belief, you can store your silicone toys together, and they won't fall apart like rubber or jelly toys. Buying a silicone dildo is worth the extra expense over time.
Conclusion
If pegging has been on your sexy bucket list, start with the best quality dildo you can find which usually means buying a silicone dildo. When you're new to penetration, starting small is always best and make sure to use plenty of lube. Water-based lube is best with silicone unless the manufacturer's instructions say otherwise. Experiment with your pleasure, and you may be shocked at all the sexy things that get you off.
[w153_th_products title="Best Selling Items" orderby="bestsellers" categories="strap-ons-harnesses" count="12″]