Realistic dildos aren't for everyone. Some people want their sex toys to look like toys, including dildos. They prefer the pinks, purples, or blues.  But for the person who loves a variety of skintones and veiny patterns on their dong, you may be surprised at just how many realistic dildos are available to try. Some vibrate, others squirt, and many feel amazingly lifelike in your hand…among other places. For those of you who want your sex toys to look as realistic as possible, here are a few dildos you'll want to try.
Squirting Cock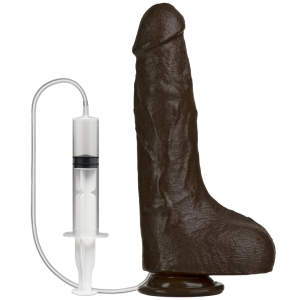 Made by Doc Johnson, the Squirting Cock comes in multiple skin tones and is made to look and feel more like the thing real. It's thick, long, and veiny. Grab the testicles and massage them – you'll feel the "balls" moving around inside! When you're ready to come, so is your dildo. It squirts on command and uses any body safe liquid you prefer. The Squirting Realistic Black Dildo includes a tube of Nut Butter that looks and feels like the real thing. Use it on yourself or place it in your strap on harness for fun with a willing partner.
King Cock
Size doesn't matter except when it does. When you want something thick and long to fill you up and spread you wide, sometimes you have to buy for yourself. The King Cock comes in a variety of skin tones and sizes up to nine inches long. It's made of Fanta Flesh and has a firm erect center with a softer layer on the outside to feel more realistic. You can use the suction cup to mount it to any flat surface for any penetrative or deep throat fun you're in the mood for. Buy the big boy at nine inches long, and you'll get a full nine inches to pound yourself with.
Over and Under Vibrator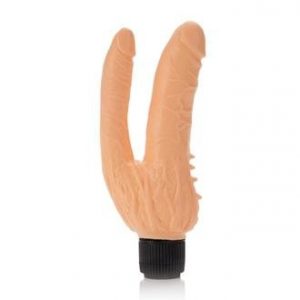 Double penetration is a fantasy for many people, but finding two willing partners isn't always easy. The Over and Under Vibrator fills you completely while offering a nice vibration to make the entire experience feel even better. It's not too long as the insertable length is 4.75 inches so you can practice before moving onto something bigger and thicker. If you're new to anal sex, use the smaller dildo but when you're ready for more, turn your vibrating dildos over – you'll get a new angle and an entirely new experience with the same vibrating dildo.
Slim Dong with Balls
Sometimes you want something long but not too thick. The Thinz Slim Dong with Balls in chocolate brown may be the perfect realistic dildo for your collection. You can use it in your strap on harness or stick it to a flat surface with the suction cups. Use it on any part of your body that can handle all that length. Practice your deepthroating. Try anal sex. Or go with what feels best and bang yourself good and hard.
Icicles No. 40 Dildo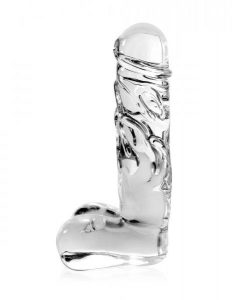 Glass isn't the most realistic look, but check out this clear, hand-blown dildo. The Icicles No. 40 Dildo might not be a skin tone but it is gorgeous and entirely doable. You can see the veins, the glans of the penis, and of course, the balls. The insertable length is five inches but it can still pack a punch. Glass can be heated up or cooled down to offer extra sensation while you play. Pop it in the freezer or run it under hot water and find out what makes this beautiful piece of dildo art so amazing.
Natural Feel Dildo
Most realistic dildos tell you they feel natural and real, but the Natural Feel Dildo takes it to a new level. First, it's a realistic size at 5.5 inches with an insertable length of 4.75 – perfect for beginners. Next, the texture not only feels similar to skin, it warms to the touch like real skin. In your hand or your body, the hotter you get, the more it will respond. Most importantly, this realistic dildo also has a flexible internal spine with means you can bend it, twist it, and angle it to find the right shape and angle for your individual tastes and desires.
Conclusion
There's nothing wrong with preferring beige, brown, and chocolate skin tones over rainbow colored dildos. You're allowed to like your dongs to look like the real thing when you play, especially if it helps the fantasy in your head. Like every other kind of sex toy, the most important thing is to find what you like best. Big and thick or pliable and small, if you can imagine the realistic dildo you'd most like to have, it's out there waiting to be found. At Jack and Jill we offer a wide assortment of realistic dildos whether you're enjoying solo sex or you're looking to spice things up with your partner.
Do you prefer realistic dildos or something else? Let us know in the comments below!