Masturbation is more than just some lotion or soap and the palm of your hand. Solo sex can be fun or it can be boring, depending on what kind of routine you get into. When you're tired of the same old standard wank, a new masturbation sleeve or stroker sex toy could be exactly what you need to take your next orgasm to a new level.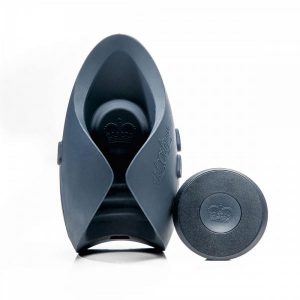 Here are a few sex toys meant to make your penis very happy.
Hot Octopuss Pulse
Whether you go for the Pulse III Solo or the Pulse III Duo, you won't be disappointed. This uniquely designed masturbation sleeve was made, originally, to help people with erectile dysfunction. Because of that, you can be completely flaccid when you turn it on. And you won't be for long! Instead of your typical vibrations, the Pulse series uses pulsation and oscillation to surround your penis in powerful sensations.
The Solo is just for you, and the Duo, which comes with a remote control, creates extra vibrations that your partner can feel when they grind against your pelvis. Let your partner ride you while you wear the Pulse III Duo, and you can both have a mind-blowing experience. Use the Pulse closer to your frenulum, and your orgasm may be more powerful than you could have imagined.
Kiirroo Onyx
Smart dildos, virtual reality, and teledildonics — what a great time to be alive! The Onyx by Kiiroo can be used by yourself during your special private wanking time or you can use it in a long distance relationship or with a partner across town. If you go that route, your partner will need either the Pearl if they have a vulva, or an Onyx if they too have a penis.
When two partners use Kiiroo products together, your sex toys allow the other to feel how you're using the toy on your body. If your partner inserts the Pearl into their body, your Onyx stroker will feel like more like your partner. When you thrust into the Onyx sleeve, their Pearl will feel like you're the one doing them. Don't have a partner? No worries – you can use the virtual reality option to turn your Onyx into a porn star stroker. Which porn star? Whoever you want – and you can change every time!
Fleshlight and Fleshjack
No matter who you want to have sex with, there's probably a Fleshlight for it. Vagina, butt, or mouths, between Fleshlights and Fleshjacks, you can have a bit of your own personal porn fantasy in the palm of your hand. The stroker itself feels realistic because of the Real Feel Super Skin® material they use that's meant to feel like penetrative sex. The sleeve is built into a canister that looks like a flashlight so it's also discreet.
Who can you do with your Fleshlight? The Fleshlight Girls series includes Abigail Mac, Riley Reid, Stoya, Dillion Harper, Tori Black, Riley Jensen, and several more. If you prefer a sexy man in the palm of your hand, Fleshjack has you covered. Boomer Banks, Topher Dimaggio, Sean Zevran, Austin Wilde, and many others are all part of the Fleshjack Boys series.
Apollo Hydro Power Stroker
Want a masturbation sex toy you can take nearly anywhere? The Apollo Hydro Power strokers are all completely waterproof so you can use them in bed, in the shower, or wherever feels good to you. With 30 vibration functions and a memory chip that remembers your last setting, you can always give yourself exactly what you want, when you want it. This masturbation stroker vibrates, pulsates, and sucks – in all the best ways.
PDX Elite Mega Anal Stroker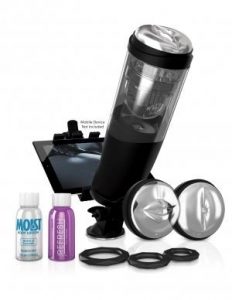 If you love the tight grip of an anus around your dong, anal strokers are the masturbation sex toy you need to try. The PDX Elite Mega Anal Stroker takes all the good things about a standard stroker – easy to use, textured chamber, tight fit – and makes it even better. Sure, you get 10 vibration patterns to enjoy, but your pleasure really is in your hands. Squeeze this stroker to increase the pressure and suction and get more of what you want out of the entire experience.
PDX Elite Deluxe Hands Free Masturbator
Ever wondered if you could masturbate without your hands? With the PDX Elite Deluxe Hands Free Masturbator, sit back and enjoy the ride. You get hands free rotation and thrusting in 10 unique patterns, plus you can switch out your stroker from vagina to booty to mouth so you get exactly what you want every time you play. It's got a powerful motor that gives you strong, steady rotation and piston action thrusting with less work or effort on your part.
Conclusion
When money is an issue, a cheap masturbation stroker or sleeve can get the job done. But quality costs more, and when you find the right adult toy, your orgasm is worth every penny you pay. Look beyond the palm of your hand and your lotion during your next early morning or late night wank. You deserve a sex toy that will make your penis sit up and say, "More please!"
Do you love using strokers and sleeves? What's your favorite toy? Let us know in the comments below!