Every sex toy on the market serves a purpose. Many, if not all, can be used in multiple ways, depending on what you enjoy and whether you're alone or with a partner. Dildos are often considered the boring cousin of the vibrator, but that's because people only think of them as long cylinders meant to penetrate the body and do little else. In reality, while penetration is their main purpose, dildos come in a wide variety of shapes, sizes, and colors. Even better, they can be used in all kinds of sexy or kinky play whether you're masturbating alone or getting busy with a partner.
Vibrating Dildos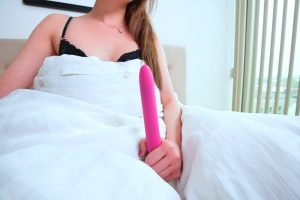 Some vibrators are meant for external stimulation and others are meant to hit the exact right spot – think g-spot or prostate. Vibrating dildos can do all of that and more. Add a new sensation yourself or your partner. Take masturbation to a buzzy, pulsing new level. Let your partner rest when you're still ready for more. Use it for some sexy double penetration action when it's just the two of you. Vibrating dildos make penetration feel exciting and different.
Realistic Dildos
Dildos that look like the real thing come in a variety of colors and sizes. They're most typically made of silicone and might be modeled after your favorite porn star's penis. When a technicolor dildo won't do, and you want to feel texture from veins not artistic ripples, a real-looking dildo is a good choice. A word of warning: there's no pretending this is anything other than a dildo if you leave it out and your mom or friend find it lying around your bedroom.
Glass Dildos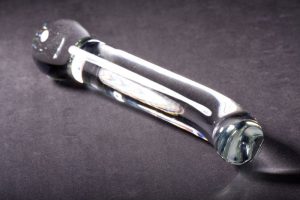 Glass dildos aren't just functional; they can be mistaken for works of art, too. From flowers to sea creatures, a glass dildo can look like anything but a dildo. This is only the beginning of the fun. While you can use it for perfectly wonderful penetration, take it to a new level by heating it up with hot water or cooling it off with ice. You'll definitely get a reaction out of your partner when you do. It's easy to use and easier to clean. Because it's made of such a hard material, take care when penetrating yourself or a partner. You may need to use lube or wait until your body is properly warmed up, or you may feel pain during penetration.
Suction Cup Dildos
When you want to do yourself but you're in the mood for a different position, dildos with a suction cup on the end can do the trick. They come in a variety of shapes, sizes, and colors from realistic to candy-colored. You can use it on yourself in the shower or on the floor. It's a great way to practice your deep-throating skills too. On the right surface, these dildos will stay in place until you're done playing with them which means you can try a variety of positions before you get tired of playing with yourself.
Dildos for Two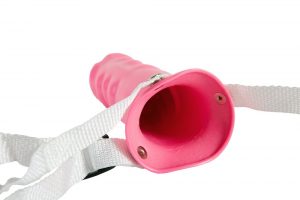 Any sex toy can be used between two people, but these specific dildos are special. If you choose a double dildo, both you and your partner can penetrate each other in a sexy back and forth while you find the rhythm that works for you both. Your other option is fairly common but often gets overlooked – a strap-on. While some lesbian relationships use strap-ons for penetrative sex, people with erectile dysfunction can use them as well thanks to hollow dildos. Strap-ons are used in a variety of ways from dildo-in-vagina penetration to pegging and anal sex. It's important to find a harness that fits well and a dildo that feels good when it rubs against the wearer's groin. As with other dildos, don't be afraid to lube up, either.
Fisters
Fisting isn't for everyone. It involves inserting a fist into the vagina or anus to stimulate you or your partner. It must be done with care, patience, and lots of lubricant. Sometimes you or your partner's fist will be too big, no matter how long you spend stretching those muscles. A fisting dildo can be a fun or new way to try fisting while giving your partner's hand a break. As you do with your real fist, don't just push the dildo into the vagina or anus. Spend time warming your partner or yourself up with arousal, lube, and a few fingers at a time. Stop if pain or bleeding occur. When in doubt, get to the hospital if you or your partner continues to bleed or feel pain afterwards.
Conclusion
Dildos come in every shape, size, color, material, and design. You can indulge your kinkiest desires or simply have sex in a different way than usual. Dildos aren't just for masturbation fun but have a definitely place in relationships, too. At Jack and Jill, we offer a wide variety of dildo styles to suit every taste or desire. No matter what type of sex toy you use, always play safe and start slow. The goal is pleasure and excitement for yourself or in your relationship, not a trip to the emergency room.
Which of these dildos appeals to you the most? Share with us down in the comments!