When you're in a long-distance relationship, sex with your partner can be in short supply. You spend a lot of time masturbating — alone or while talking to each other. If a hand or your sex toy has become your new best friend, don't feel bad. You're definitely not alone.
Sex toy manufacturers know how difficult it can be to sexually connect with your partner when there's nothing but miles between you. Many of them have designed their sex toys with you in mind.
Lots of vibrators and masturbation sleeves use a mobile app these days to let the user have more control over their own pleasure. The good news is that many of these apps allow you to enjoy the experience with a partner even if they're not in the same room.
Looking for a new way to add heat to your long distance relationship? Check out these six sex toys and find the one that works for you and your partner.
We-Vibe Ditto and We-Vibe Rave
What kind of orgasmic pleasure do you crave most? The entire We-Vibe line caters to your every desire. The Ditto is a vibrating butt plug made of soft silicone and designed for comfort. The Rave is a vibrator made with a gentle curve to better reach the G-spot and body safe silicone to feel good against your skin.
While the toys feel good, it's the mobile app you'll want to use when you and your partner are apart. The We-Connect app gives you complete control over your vibrator and lets your partner control it, as well. You can create custom playlists, chat through your app, and easily change the intensity or pattern of what you're both feeling while you play.
Vibratissimo Sei and Quattro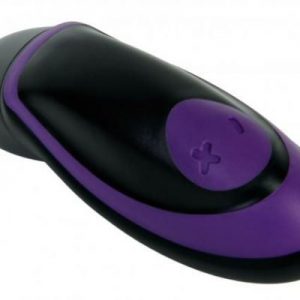 Vibratissimo is known for its connected and interactive sex toys. The Sei is a non-phallic and ergonomic clitoral stimulator. It easily fits in the palm of your hand and against the vulva. The Quattro is a G-spot vibrator if you prefer internal stimulation or want to penetrate your body with feel-good vibrations.
What makes Vibratissimo good for long distance couples is its mobile app. Of course, you can control your vibrator with the app, but so can your partner. Use the video chat feature to see your partner while you play together and even use it to hand over control. You can send text messages through the app, too. Even better, if you both have a Vibratissimo toy, you can control each other's toy at the same time!
Je Joue Nuo
Looking for something really discreet that you can use in your long distance relationship? The Je Joue Nuo is a pen-sized vibrator that lets you play in multiple ways. The Nuo is sold as an anal vibrator so if you enjoy anal play or prostate massage, it's a great option. Because of its design, it can also be used as a G-spot stimulator. Make sure to sterilize it if you use it for anal play before penetrating your vagina with it.
Either way, use the toy and the mobile app to connect with your partner, no matter where you are. The app lets you save playlists and send them to each other, as well. No matter how you like to use the Nuo, you can enjoy it with your partner as a great couples sex toy.
Kiiroo Teledildonic Couples Set

The Kiiroo Onyx and Pearl are probably most well known for their connection to virtual reality and allowing users to get themselves off online with fantasy partners. Did you know it can be used as a tool for couples in long distance relationships? Once your toy is connected, you can use the app for video chat, control each other's toy, and have an intimate moment together. You can feel what the other person is doing with their toy, making it seem like they're with you.
The Onyx is a masturbation sleeve that uses contracting ring technology to closely mimic the sensation of penetration. You don't have to move while using the Onyx as the toy will do all the work. The Pearl is a vibrator designed primarily for penetration and G-spot stimulation. If you connect with an Onyx, the Pearl will send the sensations and movement you use to the Onyx so your partner can feel what you're doing in their masturbator. Not only are you connected by technology through your sex toys, but also by touch and sensation.
Conclusion
Skype, Facetime, text messages, phone calls, and email may continue to be the way you communicate in your long distance relationship for as long as you're apart. But solo sex with your hand or a sex toy doesn't have to be the way you get off. Finding the right high-tech toy that works for your body and offers an interactive mobile app will let you connect and find pleasure in new ways — together.
Do you use sex toys in your long distance relationship? Let us know down in the comments!