If you use your dildo – vibrating or not – only for a quick masturbation session when you're bored, think again. Yes, dildos are meant for penetration, and yes, they're often used for solo sex fun. But there's much more to them than a quick in and out, with or without the buzzing and pulsating.
Try something beyond the boring basics with your dildo. Here are five ways to play with your dildo.
Beyond Average Penetration
Okay, so penetration is a big "duh!" with dildos. Their purpose is to penetrate your body in some way. That doesn't mean you can't spice things up a bit, though. Add other adult toys into the mix. Penetrate with one and use a vibrator or wand massager on your most sensitive parts at the same time. Add nipple clamps or a butt plug to the moment. Go beyond the typical quick masturbation session to make it even better.
Imagine a fantasy or the last good porn you watched. You're the person getting screwed so good. Hard, fast, slow, steady, do what works for you, but use your imagination to make what your body experiences even better. You can do that whether you use one sex toy or several.
Anal Play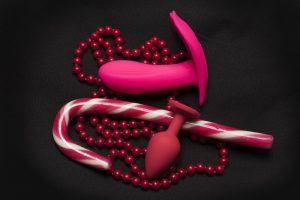 You can do anal play alone or with a partner. If the plan to is to take a several inch dildo and penetrate your ass with it, you might want to clean up at least a little. No matter what you do, make sure you have plenty of lube. If this is a dildo you use for other penetrative play, you might want to use a condom to make cleanup easier or if you want to penetrate your vagina or your partner later.
The key to any anal play, especially if it's new to you, is to go slow and use more lube than you think you need. No matter what you've been told, anal penetration doesn't have to hurt. If it does, you're trying to do too much too soon.  Stimulate your genitals in a way that feels really good to help your muscles relax. For first-timers, start with a dildo with a smaller girth. No matter what, make sure whatever you stick in your butt has a flared base so it can't get lost in your anus.
Deep Throat Fun
Not everyone is into full on deep throat, but if you enjoy giving any kind of blowjob, this is for you too. Dildos with a suction cup base have plenty of uses. Just one option is to attach it to the wall of your bathroom or bedroom, get on all fours, and enjoy your wildest and best blowjob or deep throat fantasy.
Like to have your throat pounded but don't have a willing penis around for it? Your dildo can handle it. Want to see how much you can take? Practice makes perfect. Not everyone likes blowjobs without a flesh and blood person attached, but if you've got an oral fixation, your dildo can help out.
Double Penetration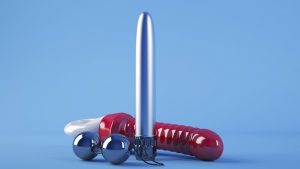 Double penetration or DP can mean more than two penises crammed into a vagina. There's vagina and anus, two in one ass, and even simultaneous genital and oral penetration. So many orifices, so little time. If you want to add in a "third" to your masturbation or with your partner without actually adding a person, your dildo can make it happen.
Alone or with no penis in sight, two dildos will go wherever your body allows. Like the anal play above, go slow with DP in the vagina or anus. If you and your partner really want a third person involved, a dildo can make a decent substitute if what you crave is penetration. Start slow and small with additional penetration and add plenty of lube. The whole point is to have fun and not hurt yourself.
Kinky Power Exchange
Do you crave being made to give a blowjob to a stranger but don't feel safe trying it? Are you dying to be called your partner's "slut" or "whore" without anyone else hearing it? Do you have kinky fantasies involving giant penises that don't belong to your partner? A dildo can be a great and safe option to try all kinds of fantasies without allowing a stranger into your life or bedroom.
Dildos are also excellent for putting on a show for a partner. You can have sex with yourself with it. Suck it. Blow it. Even get teased with it. Your partner can even hold the dildo or strap it on so the interaction is primarily between the two of you. One of you controls the dildo and the other does what your partner asks – with consent, of course
Conclusion
Dildos get a bad wrap for being the "boring" sex toy. Unless they vibrate, heat up, or do some other trick, some people think, "Why bother?" During solo sex or with a partner, a dildo allows you to bring fantasies to life in a safe way. You can try things you've always wondered about, explore new sensations, and try out some of your kinks. Best of all, as long as you keep your dildo clean, it's some of the safest sex you can have.
How do you like to play with a dildo? Share down in the comments!