Any sex toy can be a couples sex toy. All it takes is a little imagination, a willingness to try something new, and a focus on your mutual pleasure. If you can rethink what a sex toy can do and who it's for, you'll open yourself up to an infinite number of ways to get yourself and your partner off and make each other feel good.
Share Your Toys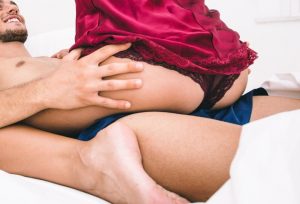 If both of you play with sex toys when you masturbate, offer to share and swap. You'll offer your partner a new kind of pleasure and a way to find out if they enjoy other sensations. At the same time, you'll get to try something new, too. Make sure your adult toys are clean before you give them to your partner, even if you're not at risk for sexually transmitted infections. No one wants to play with a crusty vibrator or dildo.
Use a Sex Toy During Penetration
It doesn't matter what kind of equipment you have – penis or vulva – a sex toy can make you feel new things while you're being penetrated.
Wear a penis ring to make your shaft harder and take longer to get off during anal sex.

Press a vibrator against your vulva to enjoy external stimulation.

Wear an anal plug during vaginal penetration.

Use a dildo or vibrator in your vagina during anal sex.

Wear nipple clamps during sex.
Any sensitive part of your body not being directly penetrated can be a spot where a sex toy will make you feel something new and good.
Masturbate Together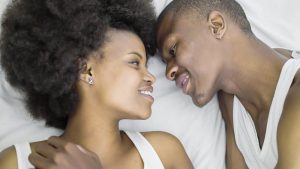 Mutual masturbation has plenty of benefits including added intimacy and learning what gets your partner off. Lying side by side on the bed and masturbating with sex toys is another form of sex. You may or may not touch or even watch each other, but if you're having a good time together with your favorite sex toys, it definitely counts.
Your partner's pleasure may spur you on and help get you off faster. Either of you may decide you want to join your partner and ignore your own toy for a while. Mutual masturbation may lead to penetrative sex or it might not, but the sex toys used for your mutual benefit definitely count as a couples toy.
Use a Sex Toy During Oral Sex
Just like when you use a sex toy during penetration, your physical "parts" don't matter for this either. Penis or vulva, you can try this out.
Insert a dildo into your vagina while your partner sucks and licks your clitoris.

Wear a butt plug during oral sex of any kind.

Wear a penis ring during a blow job.

Use a prostate massager on your partner during a blow job.

Wear vibrating panties while you perform oral on your partner.

Hold a vibrator against your body while your mouth is on your partner.

Get into 69, perform oral on each other, while using sex toys.
Again, if a sex toy can physical reach or be inserted in your body at the same time as other forms of sex, it can easily double your pleasure.
Hand Your Partner the Control
This can get as kinky as you want it to or just be another way to play, but let your partner control your sex toy. They can push the dildo or anal toy in and out of your body. Let them control the buttons on your vibrator or what spots it touches. If you get a smart vibrator with a mobile app function, they don't even have to be in the same room with you.
You'll need to communicate with your partner about what feels good and what doesn't, but don't be surprised if they make you feel something new. You know your body and the best spots to touch. They might try new things you never considered or be more or less forceful than you are. If it doesn't feel good, say so, but if it's interesting or better, let them know that, too.
Conclusion
Sex toys labelled couples sex toys can be a lot of fun, and there's no doubt they're made to give you both pleasure. But there's nothing wrong with re-thinking how a sex toy can be used and on which partner. Any sex toy – vibrator, penis ring, dildo, or otherwise – can become a couples sex toy if you both enjoy how it's being used. And yes, that includes even if it's not touching you.
Don't be afraid to try new things during sex or to incorporate sex toys. Toys aren't a replacement for either of you, only a way to enhance your pleasure. When you use them during sex, they can increase the pleasure for both you.
Which of these tips appeals to you the most? Let us know in the comments below!