For some people, a squirting orgasm is the Holy Grail of getting off. They stress out about it, work hard to achieve it, and then wonder if there's something wrong when they don't get there. A squirting orgasm is only one way for some women to enjoy sex and pleasure, and shouldn't be seen as a failure or accomplishment. But if you want to squirt and flood the bed, surprise your partner, and experience this kind of orgasm, using a good vibrator is a great way to make it happen.
Here's what you need to know if you want to try to have a squirting orgasm — alone or with a partner.
Find the Right Spot
Everyone's a little different. Some people prefer clitoral stimulation (a lot of people do, actually). Others get off on g-spot sensations. Many need a combination of both. A squirting orgasm is often caused by a lot of stimulation on an extremely sensitive part of the vulva — clitoris, g-spot, or both.
To get one step closer in achieving it, you need to know your body well enough to know what helps you orgasm best. If you're not sure, masturbate and explore your body first. Or use your vibrator to get off without worrying about whether you squirt or not. Learn your hot spots, and you'll be closer to your goal. And even if you don't squirt, you'll feel good in the process.
Find the Right Sensation
If you're using a vibrator to squirt, what's going to help most is the type, force, and speed of the stimulation you feel. Pulsating tends to work well for g-spot orgasms while vibrations, suction, and even sonic waves will help clitoral orgasms.
It's not enough to find the right sensation. You also need the right intensity. Some people need a high-powered vibrator like the Original Magic Wand. Others need focused stimulation like the LELO Sona. The rabbit vibrator is popular because it hits both the g-spot and clitoris at the same time. Most of the these vibes offer multiple settings so you can find what works best for you.
Hydrate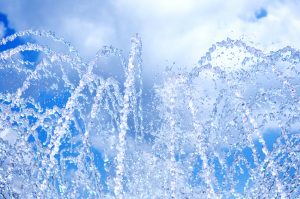 This may not be true for everyone but from this squirter's experience, not drinking enough water can get in the way of a good gush. Staying hydrated is generally healthy, so it's not a bad idea in general. But if you've got squirting on your mind, and you're jonesing for some naked time with your favorite vibrator, get those eight glasses in for the day first. It's not a guarantee of success, but it can definitely help. Note: If you do squirt, drink water afterwards, too, so you don't become dehydrated later.
Switch Things Up
It's not uncommon to get accustomed to specific positions and stimulation. Not that you won't get off, but it might be a different kind of experience. If you think this might be happening to you, switch things up. Try another vibrator. Use a different setting. Ask your partner to hold your vibrator at a different angle. Even small adjustments can help you feel something new.
This can often be enough to jumpstart your orgasm and help you squirt. If you find that you have multiple vibrators that get you off in a big way, cycle through them while you masturbate just to keep things interesting.
Relax
If your body is even capable of squirting (and not all bodies necessarily are), being tense will stop the gush before it even begins. Everyone is different so what tenses you up or relaxes you will be different. But one thing is true for most — if you're worried about squirting and stressing out about it, you probably won't.
Sometimes the sensations from your vibrator will be enough to overwhelm your worry but not always. Focus on feeling good and having fun, not on the specific kind of orgasm you want to have. Even if you don't squirt this time, it will have been a pleasant and positive experience — which is really all that matters.
Conclusion
For those who can have them, squirting orgasms can be fun and amazing. They can also be overwhelming and messy. It's okay if you don't want to squirt and don't care if you ever do. It's also okay if it's something you want to try. Because these big, wet climaxes often happen more easily with lots of stimulation, a good vibrator is often the best tool you can use but feel free to search for other cool sex toys. Explore your body, experiment with sensations, and enjoy whatever kind of orgasm you have — whether you squirt or not.
Know someone would wants to have this kind of orgasm? Share our infographic below!