From the first rabbit vibrator that came on the market, it was a sex toy designed to maximize pleasure in multiple ways. Over the years, it's been changed and adapted, offering more tricks and features, and continued to provide sexual satisfaction from multiple angles. It's no wonder that the rabbit vibrator continues to be one of the most popular sex toys of all time.
If you think there's only one type of rabbit vibrator to use, think again. For those who love their rabbit, it's never a bad idea to try new styles to see what else you might enjoy. And if one bad experience made you think you're not a rabbit lover, maybe these other options will convince you to give the bunny ears another chance.
Standard Rabbit Vibrator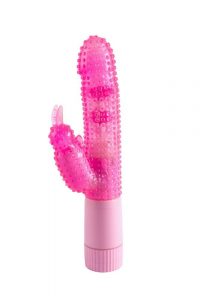 What you probably think of when you imagine a rabbit vibrator is considered the standard style. It's a stimulator with two bunny ears that surrounds the clitoris attached to a several inch long shaft. Once inserted and turned on, you experience vibrations or pulsations both inside and out. Two motors are typically included so that both internal and external sensations can be controlled independently. The shaft may or may not have texture or beading for added stimulation. When beads are included, they often move independently to offer a third possibility for sensation and hit more sensitive spots.
Rotators and Thrusters
Not a common rabbit vibrator but a powerful one, the rotator or thruster (and sometimes a combination of the two) vibrator takes sensation and stimulation to a new level. This style often has many of the same features of a standard rabbit vibrator. Multiple motors, added texture, the size, and the bunny ears – but it includes an added function of thrusting, rotating, extending movement. As a user, you can enjoy a more realistic and all-encompassing sensation. The rotation or thrusting isn't typically very fast but it doesn't have to be. All it has to do is make you feel good in more than one part of your body and in a different way.
Mini Rabbit Vibrator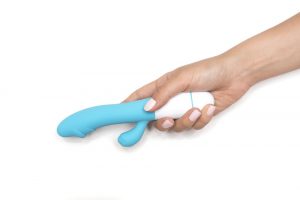 To a certain extent, the mini rabbit vibrator is simply a smaller version of the standard. The shaft is longer than the "ears" although it's smaller overall. It may be smooth or textured. You experience vibrations and pulsations. One big difference, though, is the motor function. Many mini rabbit vibes only have one motor, and the entire toy isn't as strong as it's larger counterpart. This smaller version is a discreet option that usually fits in the palm of your hand and doesn't seem as intimidating as the standard rabbit vibe. It may also be more comfortable for people with smaller vulvas or those who experience pain during penetration.
Double Penetrators
Technically, not all double penetration sex toys are part of the rabbit vibrator family. What you want to look for is triple stimulation – vaginal, clitoral, and anal. This kind of double penetration toy offers an extra layer of pleasure for those who enjoy anal play but don't have or want a partner to join in on the fun. The anal stimulator is usually long, thin, and beaded. It may or may not vibrate as well, but if it does, it's usually a very gentle sensation. While you may or may not need lubricant for a standard rabbit vibrator, you definitely need it with anal penetration. Don't skip this part as anal play without lube is uncomfortable and painful.
The Animal Kingdom Vibrator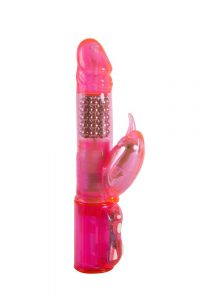 The rabbit vibrator was a Japanese attempt to get around the censors in their country during manufacturing. "This isn't a sex toy! Look at those bunny ears! This is a motorized rabbit." We can talk about what this says about those inspectors another time. But it's important to know that while the rabbit may be the most popular animal, you can choose from more of the animal kingdom. A dolphin vibrator has a long snout nose instead of bunny ears. The beaver vibrator uses a snout shape as the clitoral stimulator. Over the years non-animal options have been designed – cups, nubs, artistic bulbs, and several other shapes meant to hit the clitoris just right. What we call a "rabbit" may not be an animal at all, but the principle is the same – feeling good inside and out.
Conclusion
The beauty of adult toys in general is that you have multiple ways to experience pleasure. Choosing a dildo gives you one way to play while a vibrator offers another experience. Plenty of people adore their rabbit vibrators which combines what's good about both dildos and vibrators. Millions of purchases a year can't be wrong. The variety among rabbit vibrators alone gives lovers or haters the opportunity to find a sex toy that offers a new way to feel good. Finding the best rabbit vibrator for you might not be easy, but the fun is in trying.