Sex toys for couples often make the assumption that the "couple" in question is a male/female cisgender couple, but this of course isn't always the case! A couple can consist of people with any gender and genital combination, and different genital combinations may be better suited to some toys than others.
Check out these sex toys for couples who both have vulvas.
Finger Vibrators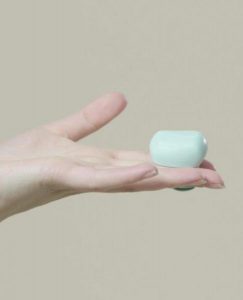 Finger vibrators like the Dame Fin fit on or over the wearer's fingertips. This means they easily add sensation to partner play. For those new to using sex toys in with partners, finger vibrators allow you to stroke or touch your partner's body in a way that you already do but with the added benefits of a vibrator. Finger vibrators don't have to be used on their own. You can also use them during oral sex on your partner. They add extra stimulation and allow the giving partner a break for their neck and mouth.
Wand Vibrators
Wand vibrators are often larger and more powerful than other styles, and they have a reputation to match. The Original Magic Wand is possibly the most well-known sex toy of all. While most associated with solo play, they can also be used within partnered sex.
If you enjoy tribbing (sometimes known as scissoring), place your wand vibrator between two bodies, allowing both people to grind against it. A wand vibrator can also be added to almost any other kind of sex. The long handle and broad head easily reach the clitoris, which can make orgasm during penetrative play a lot easier.
Strap-ons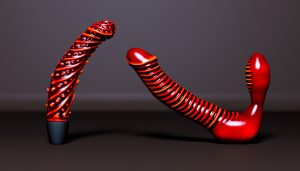 Strap-ons are the kind of toy most associated with couples where both partners have vulvas. While not everyone enjoys penetration, for those who do, a harness and dildo set serves as an important addition to complete a toy box.
When choosing a harness, bear in mind how you'll use it. If both you and your partner want to wear a harness and you're different sizes, an underwear style harness is less suitable as it is unlikely to fit you both. In this case, a two-strap harness allows for a better fit. If only one of you wants to wear the harness, you have more freedom of choice.
If the person or people who want to wear the strap-on have strong kegel muscles, there's also the option of strapless strap ons, like the Strap U Vibrating Strapless Silicone Strap. Even if you don't have the kegel strength to wear one on its own, worn in a harness it provides stimulation to the person wearing it.
Double-Dildos
Dildos are another kind of toy that not everyone will be interested in, as not everyone is interested in penetration. However, for couples where both people want penetrative sex, double dildos can be a fun way to play. Double dildos are, as the name suggests, a dildo with a head on each end to use for penetration. They can be used for simultaneous vaginal and anal penetrative play on one person. But they can also be used for penetrative play between two different people.
If you and your partner aren't fluid bonded, a longer double-sided dildo will have a lower risk of STI transmission than a shorter one, as there will be less genital-to-genital contact.
Anal Toys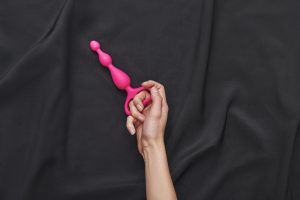 Just because both partners have vulvas doesn't mean that anal play can't be pleasant. Everyone has a butt, and the anus is rich in pleasurable nerve endings.
Toys that aren't specifically designed for anal can be safe as long as they have a flared base. But there are also toys specifically designed for anal play, like anal plugs and anal beads. If you're new to anal, you'll want to start with a small anal sex toy, and slowly transition to larger sizes. Remember to always use lube, as the anus doesn't produce any lubrication on its own.
Bondage Gear
While not usually considered "couple's toys," bondage and BDSM gear definitely add to partnered sex, regardless of the genitals involved. While playing with kink doesn't have to include gear, that doesn't mean restraints, blindfolds, or floggers can't be a welcome addition. Remember to talk to your partner about limits before playing with kink and to educate yourself on safety.
Conclusion
While this isn't a conclusive list of all the ways to use sex toys when both you and your partner have vulvas, hopefully, it's given you a few suggestions of where to start exploring!
Do you have a favorite toy you use with a partner? Let us know down in the comments!