Any sex toy can be kinky in a BDSM scene or a Dominance and submission (D/s) relationship. Some toys are made specifically so you can get your kink on. If you're new to kink or you're ready to add sex toys to your play, here are a few ideas if you or your partner is a male submissive.
Note: Not everyone who identifies as male has a penis. While some kinky sex toys listed here are specifically for a person with a penis, not all of them are. Needing, choosing, or using one toy over another doesn't make you any more or less kinky, submissive, or male.
Communication and Consent First
Before adding any new kinky play or sex toy to your D/s relationship, always talk about it first. Learn as much as you can about a form of play or sexual activity before trying it, and discuss your hard and soft limits with each other. Not every submissive enjoys the same kind of kinky fun, and the same is true for dominant partners.
When you use your new toy, make sure you're both clear about how a submissive partner will indicate things need to stop. If a safeword isn't chosen, always listen when someone says, "No!" or "Stop!" When in doubt, check in and ask, "Can I keep going?"
Chastity Cages
If you or your partner has a penis and consents to orgasm control or forced chastity, a cage is a great way to keep him under control. You might want to use one with a lock that completely covers his shaft that only comes off when necessary. Another option is a cage that lets you slip teasing touches between the "bars" to keep him on edge as much as possible. Check materials and sizing first to find one that fits you or your partner. While chastity cages are meant to constrict movement and access, they should never be too tight or worn for too long without a break.
Gags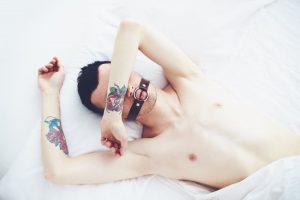 When you think gag, it's possible you're picturing a ball gag or even a bit gag, but those aren't your only options. Spider gags keep a submissive's mouth open so you can put a dildo or your own penis down his throat. If what you want is his mouth open and tongue out for face-sitting or rimming, that's also a good option too. Gags with dildos so your submissive can penetrate you (or someone else) take "face-f*cking" to another place completely. Either way, a gag provides control over speech and what happens when you play together.
Vibrators
Any kind of vibrator can be used in BDSM and kinky play, especially for forced orgasm play or if you want to edge him to the point of distraction. For a submissive with a prostate, a prostate massager might be exactly what you need to milk him for every drop he's got. Or pull out the Original Magic Wand or another heavy-duty body massager and drive him wild externally. You can also add attachments that allow those heavy vibes to penetrate your submissive and make him writhe from the inside out.
Restraints
Restraints come in a variety of options from handcuffs to hemp rope. If what you want is convenience and an easy option that works, restraint systems using clips and hooks work well. Want to tie your submissive to the bed? Under-the-bed restraints make it easy and are easily hidden later. Want their arms over their head so you can reach multiple parts of their body at the same time? Over-the-door kits are a good option. Want your sub to hold a specific position during a scene? Try a neck-to-wrist restraint set. Rope work is beautiful and amazing for people who enjoy it but if you need something easier, try a restraint system.
Candles
Trying wax play with candles only works if pain and/or sensation is what you or your partner enjoy and want. Some people do it for the temporary pain and others for the way it feels when wax is scraped off the skin. When you're new to wax play, look for candles designed specifically for it. Household candles aren't a good idea as they may burn too hot and cause real injury.
Conclusion
The kinky adult toys you play with depend on what gets you or your partner off and what kind of control you enjoy the most. Pain, orgasm control, and bondage are just a few options. Talk to your partner before you buy a new toy for a BDSM scene. Go slowly at first until you're both more comfortable with it. Regardless of what sex toy you play with or how you get kinky, the whole point is to experience mutual pleasure.
Know someone who could use a new way to play with their favorite male submissive? Share the infographic below!