Spooky Season has officially arrived and what better way to get yourself in the mood, than with some scary and sexy movies? The horror genre is rife with tropes that lean into sex alongside fear, and there's a good reason. Fear and arousal occur in the same areas of the brain and therefore are inextricably linked.
Horror films offer a way to experience very real fear without risk of danger. This in turn evokes an adrenaline response that gets our hearts thumping. Disgust can also trigger arousal and/or fear. Which explains why many folks get into, and off to, particularly graphic horror.
Fear-play is a whole subset of kink and BDSM but if that feels a bit too involved or too foreign for you, no problem. Just get yourself comfy, alone or with a sexy someone, dim the lights, and tune into one of these scary-sexy movies.
Bram Stoker's Dracula (1992)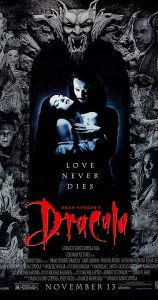 We all know of Dracula. The character became synonymous with "vampire". A vengeful, yet romantic entity who is both evil and misunderstood. This version of the classic novel by Bram Stoker is gorgeously interpreted by director Francis Ford Coppola.
Imagine heavy religious imagery, incredible costumes, loads of nudity and sex scenes, including some really steamy moments between Gary Oldman and Winona Ryder. If that's not enough, we also get a harem-orgy involving a young and shirtless Keanu Reeves. This film is intense, sexual, beautifully made, and all but guaranteed to get your blood pumping.
Jennifer's Body (2009)
Teen horror/high school horror is a sub-genre all its own. One that often follows a predictable formula and leans heavily into tropes of sex and sexuality, especially the sexuality of teen girls and young women. Jennifer's Body is no different but it manages to succeed, despite being formulaic. This is in no small part due to Megan Fox's obtusely sexual performance as a beautiful student succubus who selectively kills her male peers.
This film has been heralded as a feminist homage to horror. It captures the intensity of girls' adolescent friendships, walking the line between obsession and adoration. Gory, but with good effects, it's not a movie that will keep you up at night. But it definitely makes for some delightful popcorn spilling jump scares.
Mulholland Drive (2001)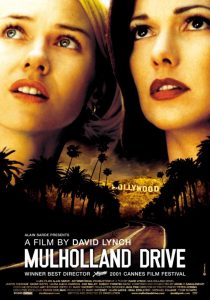 From writer/director David Lynch, Mulholland Drive is technically a psychological thriller, not pure horror. But it has enough disturbing and frightening imagery in it to qualify as both sexy and scary. Like all of Lynch's work, this movie is a total mindf*ck.
Lynch calls it, "A love story in the city of dreams." But it's much more focused on nightmares, hallucinations, amnesia, and some sexy sapphic exploration. The story is rich and tangible as well as unsettling and intense. Keep your eyes peeled for "the guy behind the diner," and the frightening sensual tension in the scenes at "Club Silencio."
Under the Skin (2014)
In Under the Skin, Scarlett Johansson is an alien from another planet. She's doing earthly reconnaissance and flipping the script of sexual politics by hunting and harvesting men. Men whom she lures with good old fashioned sex and seduction. Filled with violent and chilling themes, it carries a subtext that is complicated and fascinating, posing the idea of otherworldly existential crisis, and identity.
It is dark and sparse. Set and filmed in the UK, the location provides a drab background for a complex and intense horror film experience. Despite being a commercial flop, ScarJo's performance carries the film and shows us a cold and calculating persona that is ironically more nuanced than her more sensitive roles.
From Dusk till Dawn (1996)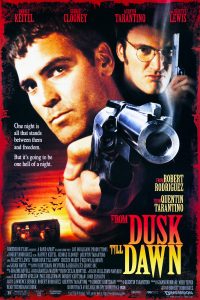 Here we have a cult classic horror film from the mind of Quentin Tarantino, directed by Robert Rodriquez. If you're familiar with these filmmakers you already have a sense of the look and feel of From Dusk till Dawn. It's gritty, sexy, action-filled, and gory.
Somehow this movie manages to be both campy and sexy. Perhaps that has something to do with a scantily clad Salma Hayek dancing with an enormous snake in a seedy roadhouse. It doesn't end there, as Tarantino's real-life foot fetish is also indulged by Hayek's character. Incredibly gory, with some impressively long and involved fight scenes, this 90s treasure of horror will leave you feeling squirmy and dirty in all the best ways.
Other sexy-scary movies worth mentioning
If you're a fan of the genre and you enjoy the crossover between scary and sexy, here are some other films of note. Try Interview with the Vampire (1994), American Psycho (2000), Crimson Peak (2015), Blue Velvet (1986), Hellraiser (1987), and The Texas Chainsaw Massacre (2003), to name a few.
Don't overlook or undersell older films as well. The 1970s and 80s were a golden age of horror films and despite their lower production value and more archaic effects, many of them still hold up today.
Conclusion
Whether you go full-tilt slasher movie, for an epic monster flick, or for a classic haunting, there's tons of wicked sex to be seen in horror. Embrace the spookiness of autumn and the impending darkness of Halloween, while getting hot and bothered, all from the safety and comfort of your couch.
What's your favorite sexy but scary movie to watch? What do you want to watch but haven't worked up the courage to stream yet? Let us know in the comments below!