Sex toys have become more and more normalized in recent years. And we think that's a great thing! As more of us are willing to talk about our toy use, inevitably that means more representation in fiction as well. 
Here are five of our favorite examples of storylines featuring sex toys in popular culture, from that infamous Sex & the City episode to the present day. This article contains spoilers, so we recommend you watch the shows first if you want to!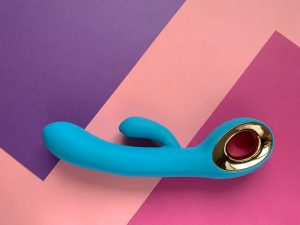 Charlotte's Rabbit, Sex & the City (1998)
In the 1998 episode The Turtle and the Hair, Miranda tells her friends about her new "Rabbit" vibrator. Intrigued, they visit a sex shop together and Charlotte buys the toy. Charlotte quickly becomes so enamored with her new pink, buzzing friend that she starts blowing off plans with her actual friends to stay home and masturbate. The rest of the gang stage an intervention, confiscating the toy. 
There are valid criticisms of this storyline. It pushes the false idea that a person can become addicted to a sex toy or that a toy can ever replace human relationships. But on the plus side, it did a huge amount to normalize women's sexual pleasure and female masturbation. More than two decades later, rabbit vibes still owe this episode a huge debt of gratitude for their enormous popularity. 
Janey Gets Caught Masturbating, Not Another Teen Movie (2001)
This 2001 comedy, which riffs on classics of the genre such as She's All That and 10 Things I Hate About You, opens with the character Janey masturbating with a large, pink, rotating vibrator. She is quickly interrupted by her family (and then a priest and a group of random local children, for some reason) coming to wish her a happy birthday. A dog pulls the blanket off the bed and the vibrator flies through the air, coming to land on the cake Janey's grandma is carrying. 
This isn't exactly a positive representation, as it arguably presents the idea of female masturbation as the butt of a joke. This is particularly true because the character's lack of conventional beauty is a major plot-point in the movie. But if you can deal with the dodgy messaging and the sheer cringe factor, it's pretty funny. 
Alice and Dana's Sexual Explorations, The L Word (2005)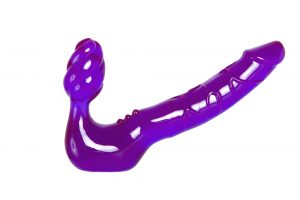 A staple feature of so many queer womens' coming-out stories, The L Word has been described as what would happen if Sex & the City was written by and about lesbians. This six-season sensation ran from 2004 to 2009 and chronicles the loves, lives, and adventures of a group of lesbian (and occasionally gay, bi, and trans) friends in Los Angeles. And there is a lot of sex in this show. 
Alice and Dana's best-friends-to-lovers storyline resonated with many people. Their devastating break-up followed by Dana's death from breast cancer in season 3 still brings a tear to our eye. But before all that tragedy, they're one of the sexiest and most sexually explorative couples on the show. 
It begins when Alice asks Dana to penetrate her with a strap-on. Dana is initially unsure, wondering if the request means Alice is secretly craving sex with men, but quickly comes around. The look on Alice's face when Dana emerges from the bathroom wearing her harness is almost too hot for words. 
Later, there's a hilarious scene where the girls go through airport security and their bag full of sex toys gets flagged by the TSA officials. ("Yeah, nipple clamps," Alice says when the guard holds the offending item up.) 
Vibrators for Older Women, Grace and Frankie (2017)
Grace and Frankie is a genuinely sweet and hilarious sitcom about two women in their 70s who develop an unlikely bond when their husbands suddenly leave them… for each other. One of the many adventures they embark on together involves founding and running Vybrant, a company dedicated to making accessible vibrators for older women. 
Particular highlights include when they try to sell their vibes to the members of a very conservative women's club, and when Frankie accidentally promises free vibrators to thousands of people on Twitter. 
I love that this show demonstrates that older women are still sexual beings who want and deserve love, pleasure, and sexual happiness. Grace and Frankie date, masturbate, have sex, and fall in love, and have the time of their lives doing it all.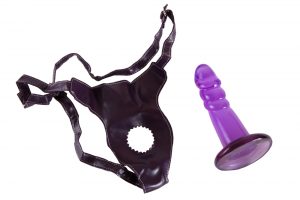 Kat Pegs Cody, The Bold Type (2020) 
If The L Word is Sex & The City for lesbians, then The Bold Type – which follows the adventures of three friends working at a New York City women's magazine – is SATC for millennials. 
Kat Edison spends much of the first four seasons of The Bold Type exploring her sexuality after meeting Adena El-Amin and falling for a woman for the first time. In season 4, she labels herself as "bisexual." For bi women who so rarely see ourselves portrayed positively on screen, this was huge. 
When Kat hooks up with cute male bartender Cody, he asks her to peg him. She's not sure at first, but she gets into the idea when she visits a sex shop with besties Jane and Sutton and chooses a strap-on. She ends up with a bright rainbow silicone dildo that is absolutely perfect and is surprised by how much she enjoys the pegging. 
Best line: "Maybe it's like a Harry Potter situation? The strap-on chooses you?" 
What are your favorite TV and movie scenes featuring sex toys? Let us know down in the comments!