Neither BDSM relationships nor vanilla (aka non-kinky) relationships are any better or worse than the other. It's all about personal preference and what you need as an individual to be satisfied in a relationship. That being said, there are BDSM principles and practices that don't always make an appearance in vanilla relationships.
While a declared power dynamic and its development might be exclusive to the world of BDSM, the practice of creating a safe, healthy environment for a relationship to thrive is not.
Jack and Jill Adult asked experts what BDSM practices every relationship can benefit from. Here's what they said.
Enthusiastic and Informed Consent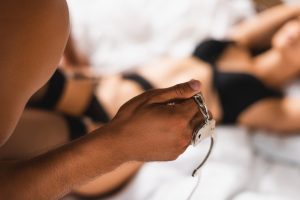 "Before agreeing to any BDSM activity, you need to understand the risks, resources needed, and potential rewards or outcomes," states Soumise, a kink educator with Limits Unleashed. "[This will help you] make an informed decision on if the activity is a good choice for you. Learning about the positives and negatives of something and make an informed or educated choice in your decision."
Soumise continues, "If you don't know enough about the subject to make an informed choice, ask or research to find the information you need. If you ask [your partner] to make the choice, be open and honest with your information."
The same is true in non-kinky relationships. You can explore anything you want to, but it's important to learn as much about it so you know what you've consented to. As you explore, you may decide not to consent. That's important information to have to keep everything safe and healthy in any relationship.
Negotiation as Communication
"One of the first things that often occur in an alternative lifestyle relationship is an in-depth negotiation where hard and soft limits are discussed, boundaries are set and expectations are set," remarks Soumise. "All parties in the relationship have the responsibility to participate in setting up and maintaining this framework.  As the relationship evolves, re-negotiations need to occur as needed."
Negotiation sounds complicated, but in reality, it simply means communicating clearly about what you like and don't like, what you want to do, and what you don't want to do.
Understanding the Difference Between Your Wants and Needs
In BDSM, compatibility within certain kinks, power dynamics, or activities are absolutely required for the relationship to move forward. Other things are nice-to-have but not necessary for the relationship. Knowing the difference between the two helps reduce a lot of angst about expectations.
"Understand what the difference is between something that is a need to you (and therefore a deal breaker if it's not an option) and a want," advises Soumise. "Recognize that sometimes a want can become a need and verbalize it before it's too late. Be honest about these needs and discuss them with your partner(s). Encourage your partner(s) to share their needs and wants with you. If you find your lists to be at odds with each other, take an honest look at the relationship, and see if there is room for compromise without giving up your core values."
More Body Positivity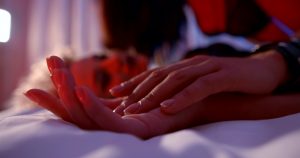 "The kink community [in general] celebrates the human body," states Alonna Donovan Makinson, founder of Life Tree Counseling. "All body types – round, thin, lanky, curvy, tall, short, cis, trans, etc. – are welcomed into the BDSM scene. Kink play isn't concerned with conforming to elusive body stereotypes. Instead, engaging in your fantasies and indulging your desires with play partners is what matters most. The body is revered as a vehicle for pleasure."
She continues, "Vanilla relationships lack the ample opportunity provided by the BDSM scene to embrace and engage with the human body as it is. Mainstream monogamous relationships tend to be more insulated from engaging with a variety of body types, while simultaneously receiving ongoing messaging from society regarding what one's body should look like. Non-kinky relationships would be well-served by…celebrating the pleasure that their bodies provide, regardless of body type or perceived flaws. [This] will lead to more satisfying sex and more fulfilling relationships."
Intentionality
"When we live our lives with intention by approaching relationships as an active choice using awareness as a tool to guide our decision-making, life becomes much more enriched, meaningful, and satisfying," says Makinson. "The kink community, which prioritizes building relationships based on personal agency, self-awareness, and communication, exemplifies how to approach relationships with intentionality."
"Practitioners of BDSM work to avoid making assumptions regarding relationship expectations or play interactions," continues Makinson. "On the other hand, vanilla relationships, enabled by their ubiquity, have a higher likelihood of falling into the "default mode" trap: relationships that auto-pilot forward using the status quo as their navigation map. The consequences of not talking about expectations lend to devastating outcomes: loss of intimacy, toxicity, cheating, breakups, and heartbreak, to name a few."
Conclusion
You don't have to be kinky to adopt kinky principles for forming, growing, and nurturing your relationships. In fact, the healthiest relationships (regardless of flavor) follow these principles. And who knows, you might decide to try kinky fun one day in the future. Practicing these skills will make that transition in your relationship much easier.
Are you already doing some of these things in your relationship? Is there anything you might add or try based on these experts advice? Share with us in the comments below!