Watch even a little bit of BDSM porn, and eventually you come across the image of someone (usually a woman) bound and helpless with a wand massager pressed into their genitals. The clip you usually see shows them in some state of orgasmic bliss whether they're screaming or shaking or both.
Wand massagers are heavy duty vibrators used primarily for external stimulation. Of course, with the right attachment, your wand massager can go anywhere. If you'd like to kink up your wand massager a little like you've seen in porn, here are a few ideas you can try.
Tie 'Em Up
Let's start with the iconic porn image – a rope harness attaching the wand massager to you or your partner's genitals. Once you learn a few basic knots and ties, rope bondage is not as complicated as you might fear. Because the harness and massager combination is so popular, it's not difficult to find techniques to teach yourself how to do it.
Of course, if you'd like to keep it simple, a little bondage tape will do the job, too without the knots. The point is to use something that keeps the massager in place. Once you turn the wand massager on, there's no getting away from those strong rumbles and buzzes. Either you or your partner will be forced (consensually) to withstand the force of the stimulation. Uncontrollable pleasure and orgasms will soon follow.
Such a Tease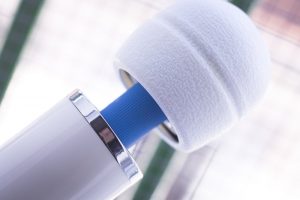 Another option for kinking up your wand massager is to give it to your partner and let them make you beg for more. If they're a little devious, they'll probably have a lot of fun with this one. Instead of placing the head of the massager right where you know it works best, they're in control. Wherever they put it should provide some pleasure, but the point is to prolong your orgasm.
Maybe your partner moves it around so it never stays on the same spot too long. Or they might hold it in place, watch how you react, and pull back just before you explode. Ultimately, this game gives them the control over your massager and the sensations you feel. The point is to drag out your pleasure for as long as possible.
Press and Hold
This is another technique for giving your partner control over the wand massager. Now it's not about how long you can wait to get off but how quickly and forcefully you'll come. You may have to help your partner find the best angle and spot on your body, but once you do, they're in the driver's seat.
Their only job is to hold the massager against your body and not move it. If you're the type who gets off quickly and is capable of multiple orgasms, this is a kinky way to find out how many orgasms you can have in a certain amount of time. For those who come less frequently or more slowly, time your orgasm. See how quickly it builds with your partner in control. Press it more firmly against your body or turn up the settings to take this kinky game up a notch.
Turn the Dial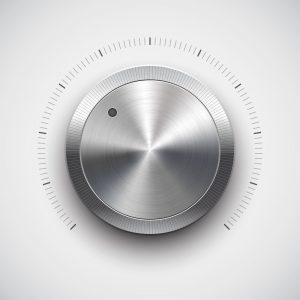 The Original Magic Wand – formerly known as the Hitachi – is a classic vibrator with a simple design. It also only has two settings: low and high. For anyone who needs more than two options, there is an attachment you can add that gives you or your partner a dial to use to control the intensity of the vibrations.
With this attachment, and any other kinky way to play with your massager whether it's bondage, teasing, or forced orgasms, you'll have more control. Spin the dial back and forth to drive you or your partner wild. Keep it on high during forced orgasms and bring it down a little at a time. Watch your partner writhe when they can't get away from the overwhelming pleasure swamping their body – and then turn it up a little more. Start low and slowly build to an explosive outcome.
Conclusion
Wand massagers are beloved by so many because they work so well. High-powered vibrations combined with a large surface area to cover more of your genitals create plenty of pleasure and devoted fans. If the idea of kink turns you on even a little, take your favorite wand massager and use it to torture yourself or your partner in a consensual, sexy, and kinky way. At Jack and Jill, we offer a wide variety of wand massagers and attachments so you can enjoy your high-powered orgasms in whatever way works best for you.
How do you like to get kinky with your vibrators? Let us know in the comments below!