Buying a sex toy might sound fairly simple — go online, find one you like, and buy it. But sex toys are much too personal to buy without giving your purchase, and how you plan to use it, a little thought. 
The next time you're ready for something new, ask yourself these questions first.
What kind of sex toy do you want?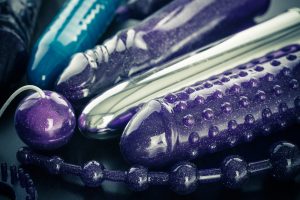 This sounds like a basic question, but it's worth some thought. Are you playing with your genitals or your butt? Do you like external stimulation or internal? Should this toy vibrate or not? When you can answer these questions, then you can narrow down your choices to a sex toy that will better fit your needs.
Will you use your sex toy alone or with a partner?
For the record, any sex toy can be used with a partner, but some are made with two partners in mind. A We-Vibe Sync can be used alone or with a partner. When you use the We-Connect app, you can even play together when you're separated by miles. If that's too much toy for you, you might want a basic penis ring or a small vibrator instead — both work alone or with a partner.
What sensations do you want to feel?
A lot of the sensations you'll feel will depend on your anatomy and how you want to play with your new sex toy. If you have a penis, you might want something that keeps you hard or simulates sex with a partner. If you have a vulva, you may prefer vibrations over penetration — or you may want both.
How do you want to use your sex toy?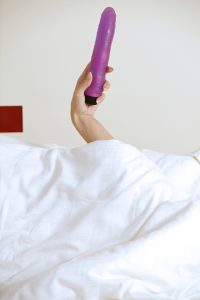 Put another way, what are you trying to accomplish with your new sex toy? Ben wa balls arouse the body and senses but don't usually lead to orgasms. Penis rings prolong orgasms and erections but Fleshlights help get you off. Are you trying to get off, turn yourself off, build up stamina, or just ease boredom? There's no right or wrong answer, but what you want determines what kind of toy may be best for you.
What do you want your new sex toy to look like?
Do you want something small or large, long or short, thick or narrow? Should it look phallic? What color would you prefer? Is there a size you want? Small dildos and butt plugs offer something different than larger options. A bullet vibrator provides a different kind of stimulation than a large rabbit vibrator.
How do you want your sex toy to feel against your skin?
This one is more about the material than anything else. Some materials are safer and will last longer — silicone, glass, and metal. They feel soft but can also be hard or cool. Other materials, like SuperSkin, CyberSkin, and TPR/TPE, feel more realistic and like a real partner, but they break down over time, can't be fully sterilized, and can harbor bacteria if not properly cleaned.
Do you need lube?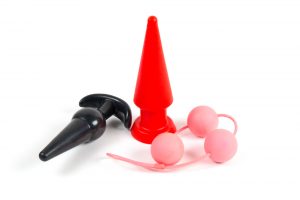 Nearly any sex toy can be used with lubricant but certain toys require it. If you're buying anything that involves your butt, always buy lube — anal beads, prostate massagers, butt plugs, etc. If you're moving up a size in your dildo collection, buy lube. It'll make penetration and adjusting to the larger size more comfortable. Getting a masturbator? Get lube, too.
Do you want a sex toy that needs batteries or not?
Vibrators and other battery-operated sex toys aren't for everyone. Some people want a quiet, people-powered experience — and that's okay. If you want something that vibrators, thrums, pulsates, or hums, your next decision is whether you want it to require alkaline batteries or if you'd prefer a rechargeable sex toy.
How will you clean your sex toy?
All toys need to be cleaned. Non-motorized toys made of silicone, metal, or glass can be cleaned in the top rack of the dishwasher. Anything with a battery or motor must be cleaned by hand and never fully submerged in water. If you choose one of the realistic materials, you may want to use a condom to make clean up as easy as possible. All toys can be cleaned with soap and water or a sex toy cleaner.
How much do you want to spend?
Sex toys come in a range of prices from a few dollars to a few hundred dollars. Spending more doesn't automatically mean it'll be better. But many high-quality toys, like luxury vibrators or silicone dildos, often cost more than the average sex toy. Make sure a toy has all of the features you want and is made of a safe material. If it doesn't, then it won't be worth whatever you pay for it.
Conclusion
Buying a new toy is a very personal decision. To find the toy that will give you the pleasure you want, ask yourself a few questions and take your time deciding what to get. When you do, you're more likely to find the perfect one for you.
Do you have other questions about buying sex toys? Share them in the comments!