Not everyone wants a pink, purple, or black vibrator. Some people like bright, wild colors instead. If yellow and orange are your preferred hues, take a look at a few sex toys that need to be in your collection. Who says you can't get off with your favorite color?
Lucid Dream No.14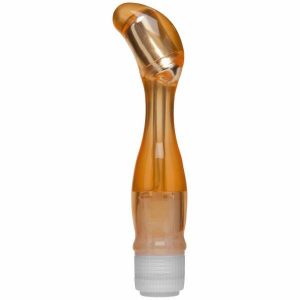 You'll think you're dreaming when you try the Lucid Dream No. 14. This quiet, multi-speed vibe will hit you right in the g-spot. Take it in the bathtub with you or enjoy it in bed. Let the vibrations help you relax and hit your sweetest spots. It looks like no other vibrator you've tried and feels like no other, too.
Neon Luv Touch Bullet
The Neon Luv Touch comes in a variety of colors, including orange and yellow. The size and volume may be discreet but the colors aren't. Get yourself off in the shower, on the go, or at home. It's easy to use and meant to be taken nearly everywhere.
I Rub My Duckie Travel Size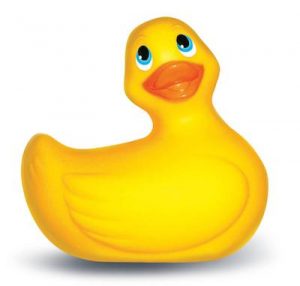 The I Rub My Duckie vibrator is the one sex toy you can leave out anywhere and no one will ever suspect what it really is. Use the big one at home but bring the travel size version on your next trip. It's discreet, small, and (of course) waterproof. This vibe is quiet but no guarantees that you'll be able to stay quiet when you play.
Blush Nude Impressions 04
Is it possible for a bright yellow dildo to get you off? When it's the Blush Nude Impressions 04, there's a good chance of it. This suction cup vibrator is no ordinary dildo waiting for you to penetrate yourself. It's waterproof and rechargeable so it can go anywhere and keep going. The five speeds and five vibration settings let you find the exact sensation to drive you wild.
Glas Tickler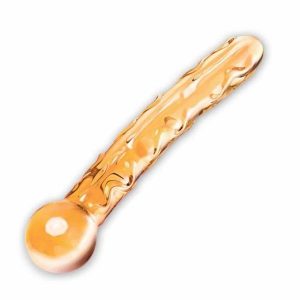 Glass dildos are works of art, but they're also fun to use. The Glas Tickler in orange is no exception. The ridged design is beautiful and functional, adding extra texture to your penetrative fun. Because it's glass, it's easy to clean and compatible with any lubricant. Best of all, you can use it in your kinky sensation play with hot and cold temperatures. How you enjoy your glass dildo is limited only by your imagination.
Tantus Vamp
If you're going to choose an orange dildo, make it a beautiful one. The Tantus Vamp in copper is exactly that. This seven inch dildo can be used in a harness or hand-held. It's curved for g-spot or prostate play and feels amazing thanks to the super soft silicone Tantus is known for.
Rooster Ramrod

Looking for a prostate massager that doesn't look like every other vibrator out there? The Rooster Ramrod may be exactly what you need. The ergonomic handle and curved shaft make this vibe not only comfortable to use but enjoyable, too. You can use the vibrator with it or remove it when you play. Take your prostate massager anywhere you'd like as it's also waterproof.
Micro Vibe Arouser – Power Tiger
Penis rings come in a variety of colors, and the Micro Vibe Arouser is no different. This Power Tiger vibrating ring is waterproof and includes three speed settings. Enhance your erection while both you and your partner benefit from the vibrations and sensations between your bodies. The moment will last longer and feel better than ever before.
Smiley Face Pasties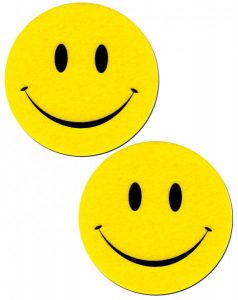 It's hard to believe that something designed to cover you up could be a sex toy, but it all depends on how you use it. Want to go topless but still tease? Taking nude selfies but want to leave a little to the imagination? Smiley Face Pasties are cheeky, bright, and fun. Make sure your nipples are clean and dry before applying and they should stay on all day long.
Convict Cutie
Who says roleplay can't be fun and colorful? You can be the hot little prisoner of your kinkiest fantasies. Don't worry, you look good in orange, especially if you're the Convict Cutie. Made of spandex and polyester, it includes an open neckline as well as waist chains and handcuffs. One size fits many, primarily size 2 to 14 with B or C cups.
Conclusion
Here at Jack and Jill we specialize in making you feel and look as sexy as you really are, because our business is pleasure. Color doesn't matter much to your orgasms. But when you have a color you just can't live without – like yellow or orange – we've got you covered. Dildos, vibrators, and even sexy lingerie come in your favorite colors, if you only know where to look for them.
Would you use an orange or yellow sex toy? What's your favorite color? Comment below!